Monthly Archives:
April 2022
Ebbw Vale Side v Bridgend Ravens
Your Steelmen side for the final time this season to take on Bridgend Ravens tomorrow evening in the Indigo Group Welsh Premiership at CiNER Glass Community Stadium, 7:30pm kick off. 
Team:
1. Luke Garrett
2. Michel Blake
3. Rob Sevenoaks
4. Lance Randall
5. Ethan Doyle
6. Dan Hill
7. Joe Thomas
8. Alex Howes
9. Jonathan Evans (c)
10. Rhys Jones
11. Carrick McDonough
12. Evan Lloyd
13. Dafydd Howells
14. Jordan Thomas
15. Daniel Haymond
Replacements
16. Liam lewis
17. Joel Harris
18. Aaron Coundley
19. Gethin Williams
20. Corey Talbot
21. Dawid Rubasniak
22. Matthew Flanagan
23. Lewis Bates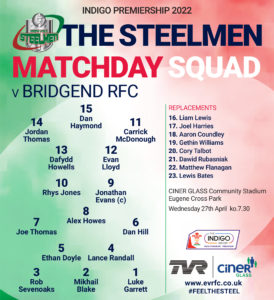 Steelmen Prop Star Rob Sevenoaks Announces Retirement
After 280 caps and 12 seasons with Ebbw Vale RFC the Tight Head Prop has announced his retirement from the game.
Rob joined the club from Abergavenny RFC as part of a new squad assembled by Neil Edwards and Jason Strange with Jason having first coached Rob in his time at Abergavenny.
The position of tight head prop is widely acknowledged as the toughest position in rugby and Rob, universally known as Oaksy became the cornerstone of the pack that won 5 league titles along with Ross Jones, Damian Hudd, Ashley Sweet and existing hooker Matthew "Chunky" Williams. Over many seasons the Steelmen pack became the most feared in the semi pro game in Wales with a scrum and driving game that was hard for teams to compete with. The recent words of British Lion and Wales loosehead Wyn Jones are worth noting when he described playing a cup game at Ebbw Vale "as the toughest and most physical game he has been involved in, the man against him was Oaksy and the front 5 that had started that first game for the Steelmen in Division 1 East.
Oaksy was also a key component in the driving line that became known as "Katch and Kynes" with his good friend Ronny capitalising in become top try scorer in the Premiership in our title winning year
Oaksy has carried severe knee issues for several seasons, a lesser man would have retired but his enjoyment of the game and the love for the club his teammates meant he was determined to carry on if the club needed him
Oaksy has always been a character on and off the pitch, never a quiet moment as he likes a chat, a referee once remarked post game how much he had enjoyed reffing the game apart from one moment in the second half, he thought he may have gone deaf until he realised that the silence was due to Oaksy being substituted! He was always central in any team social and enjoyed spending time with the Ebbw Addicts in the bar wherever the Steelmen played. On a more serious note, Oaksy believed in high standards in training and on a matchday, hard work being his mantra through his entire time at the club
He will be greatly missed on and off the field although he has stated he will not be a stranger at the club and will be watching as many games as he can.
As well as Rob, his family will be greatly missed as they have never missed games and contributed to the club in so many ways and all players, coaches, officials and supporters will want to see the Severnoakes family as often as possible
Commenting on his retirement, Rob said;
What can I say it's hard knowing when your time is up but I'm not getting any younger that's for sure!
Jason brought me in from Abergavenny in 2009 and I can honestly say I've had the best years up here with some of the best rugby moments but also some lows to. A big thank you to all the players I've played with and against, to the friends I've made over the years it's been incredible. A big thank you also to my wife and kids for putting up with me and my moods when we have lost.
A massive thank you to the Ebbw supporters and I look forward to watching with you next season from the bank, you've been loyal and brilliant to us over the years even though the bad times.
I'd like to thank all the staff, coaches, physio's, the Doc Rhys Thomas and kit men especially Ron and the boys for always picking up after me and to death who without him fixing me I wouldn't still be playing and retired years ago
So a big Thank you to everyone for all the great memories and I wish the club every success in the future and can't wait to watch next season.
My final words go to my Uncle Phil, my late father David and my mother Ginnie who have supported me through my time in rugby but particularly at Ebbw Vale and didn't miss a game, thank you so much!
Oaksy
The Last Dance
We round off the season when host Bridgend at the CiNER GLASS Community Stadium on Wednesday night (7.30KO).
The Steelmen enter of a short break following a disappointing loss away to Pontypridd. Ebbw currently sit tenth in the Premiership, just three points above the Ravens. A win is vital if Ebbw wish to keep two sides below them and could overtake Swansea should a bonus point victory take place.
Looking ahead to the game Jason said, "It's always good to finish with a home game and hopefully take away the win and the performance. Unfortunately, the effort was there against Ponty, but accuracy and consistency were missing.
"I think a win is important for the supporters, but also the players. There'll be a lot leaving on Wednesday and it'll be nice for them to finish with a win."
Despite a 'different' season due to Covid, let's make sure we pack the bank and get behind the boys before we all head off to relax for the summer break.
You can get tickets in advance here; https://www.evrfc.co.uk/product/indigo-welsh-premiership-saturday-26th-march-bridgend/ or you can buy them on the gate on the day.
Let's get behind the boys one last time this season and make Bridgend #FEELTHESTEEL!!!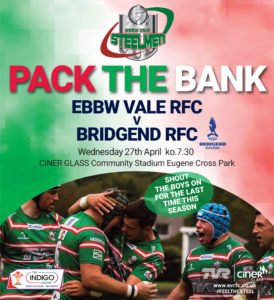 Ebbw ended their away trips for the season with a frustrating 14-3 loss to Pontypridd. Both teams struggled to get the game flowing with many handling errors and turnovers creating an open game from the off.
Despite a scrum that crumbled and a lineout that, for both sides, went either way at times, Ebbw got on the scoreboard first through the boot of Evan Lloyd. 
It was to be the only score of the first half that saw an electric crowd in fine voice.
The second half started to turn as Ponty applied the pressure up front. Four yellow cards for the Steelmen made it difficult to make any progress and two penalty tries as a result of a reversing scrum inside our own 22 was the major difference maker.
The result pushed Ponty up to fourth whilst Ebbw languish down in tenth with one game to play on Wednesday night against Bridgend.
Despite the result the visiting crowd made sure to show their colours and make their voices heard.
"I thought it was a poor standard, both teams were very loose and it felt like a pre-season game. Neither side were accurate and ultimately out of two poor teams their set piece won them the game," said Jason after the game.
"You can't do a lot about the scrums, it's out of your control really. There's lots of things I can control but pushing in scrums isn't my forte. As a general pack we've been going well recently, but Ponty did the job on us and we need to rebuild over the summer along with other things. Without a set piece you don't win games.
"I thought we had the three best players on the field in Alex Howe, Dan Hill and Daf Howells, but if you're going backwards and living off scraps it doesn't make much of a difference. We need players to be more consistent in doing their main job."
Steelman Defensive Rock Dan Haymond Announces Retirement
Following 210 caps for the Steelmen that included 4 title winning seasons, 2 cup semi finals Dan has announced he will retire at the end of the season with his last game being at home v Bridgend RFC on Wednesday 27th April
Dan a product of Abergavenny joined the Steelmen at the start of the 2011 season having been part of a title winning team at Tredegar RFC when he scored over 200 points from the 10 position. Dan spent 2 seasons aa a 10, competing firstly with Dorian Jones and then Josh Lewis for the pivot positioning was an example to all as he worked hard to push those players as hard as he could. Towards the end of his second season Dan made the switch to 15 and has made the position his own ever since and held off many challengers for the 15 shirt
Every season Dan has been in many opinions the best defensive 15 in the Premiership division for many seasons, being secure in the air and with the bravery and tackle technique to bring down anyone breeching the teams first line of defence. Dan has also been no slouch in attack creating many tries for outside backs. The Addicts all remember Dan's break from just inside the Ebbw half resulting in him sending in wing Jarred Rosser for a try in a tight contest in the play off semi final against Llandovery ands 80mtr scamper down the touchline to score the final try in the Premiership Play off Final. The dive and having the presence of mind too look straight at camera smiling remains a memorable moment for one of the unsung heroes of Ebbw 's recent history
A fierce competitor and player who always gave 100% every time he pulled on the Steelmen jersey he also stepped up to be in the main goal kicker in the Covid affected season, something he had not done for many seasons is a mark of his commitment and courage in what was a tough season
Chairman Jon Jones commented that Dan's ability on the field has been witnessed by many and he has been highly respected by all who played, coached and competed against him but what may will not have seen is the positive influence he has been at the club over his time there,  a man of few words but all listened when he spoke and one of the easiest players to deal with off the field, a man with great values, honesty and genuine love for the club he joined.
Dan said;
Well, when everyone says to you rugby is a short career you always brush it off and think you have ages left. Unfortunately it has crept up on me pretty quick and its time to hang up the boots. 
Ebbw vale has been a massive part of my life over the last 12 years or so. To say I have been here that long is unreal I didn't think i'd last a preseason let alone all those years. 
We have had some unbelievable highs and some real lows but the club is on its way back up and i cant wait to see us back at the top. 
Just want to say a massive thank you to all the boys i've played with and against had some serious players come through Ebbw since I been here and it has been a pleasure to play with all of you past and present I have made lifelong friends through this club.
The coaches that have been here during my time also i would like to say a massive thank you to Jason especially as he was the coach that bought me in and its quite fitting that he is back now to see me out. 
Also my wife and kids, they have had to put up with me being out of the house all the time. Away on the weekends to go to places like RGC, and for putting up with me having my head up my arse when we lost or when I wasn't happy with how I played. 
The biggest thank you has to go to the addicts. Ebbw Vale has to have one of the best group of supporters in Wales. They out number most teams home and away and I will miss the bank full of addicts supporting the boys win or lose and I promise you a lot more winning is on its way after a tough couple years. The boys are working so hard to get back there for you guys.  
So thank you all for everything and good luck to the boys that are lucky enough to put the jersey on next season. I hope you enjoy it and treasure it half as much as I have. 
The club is talking to Dan about remaining at the club in another capacity.
Ebbw Vale Side v Pontypridd RFC
Your Steelmen side to take on Pontypridd this Saturday in the Indigo Group Welsh Premiership at Sardis Road is as follows.
Team:
15 Dan Haymond
14 Jordan Thomas
13 Dafydd Howells
12 Joe Westwood 
11 Carrick McDonough
10 Evan Lloyd
9 Jonathan Evans © 
8 Alex Howes
7 Joe Thomas
6 Dan Hill
5 Ethan Doyle
4 Lance Randall
3 Lewis Kinsella
2 Mikhail Blake
1 Aaron Coundley
Replacements
16 Connor Chapman
17 Joel Harries
18 Rob Sevenoaks
19 Dawid Rubasniak
20 Cory Talbot
21 Matthew Flanagan
22 Lewis Bates
23 Oliver Andrews
Ebbw travel to old rivals Pontypridd on April 23, as the Steelmen look to get back to winning ways after a frustrating defeat at home to Carmarthen a fortnight ago. Ponty will also be looking to do similar after falling foul of a 40-10 rout up at RGC. 
Ponty currently sit seventh, 13 points above Ebbw in ninth, but the scores are tied at one a piece this season, both sides winning at home, Ebbw's result coming back in September in the Indigo Group Cup match. 
Since that day Ebbw have been up and down with results, Ponty's 31-3 victory at Sardis Road a display of how a score can not always reflect the performance. 
Despite this being the final away trip of the season for Ebbw, there has been plenty of movement off the field and supporters will be pleased to hear Jason has accumulated a squad that he is now happy with and is working through the final few areas to ensure maximum success next season.
"That's a brilliant place to play rugby, there's always a nice atmosphere there. There's lots of history and those two remaining games can build on our performances, but I'd like us to sustain a high performance over a longer period," explained Jason.
"Because our starting point was so low, it was always going to take time and we were realistic and knew it wouldn't be turned around in three months, the club was in too much of a mess to do that. What I keep telling the players, if we think of where we were three months ago getting 50 points against Newport, it was almost unopposed. We're now competing with the likes of Aberavon, Llandovery, Carmarthen today," he added.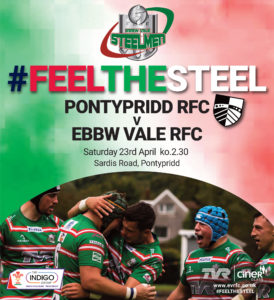 Ebbw fell 28-16 defeat at home to Carmarthen Quins after a fantastic first half performance was thrown away in the latter stages.

Before either side crossed the whitewash Evan Lloyd and Jack Wilson traded kicks for either side, Quins leading 6-3. Following some heavy pressure and smart play off the set piece, Dave Whiting smashed his way over from close range to give the Steelmen a widened advantage.
Evan Lloyd then took further advantage of the wind as he converted another two penalties before the break.
Quins soon turned into a different beast. They exited well and the driving maul was unstoppable at times, led by Torin Myhill at hooker who scored Quins' first try of the afternoon.
Some sloppy play later and Ebbw conceded another, this time Rhodri Davies crossing the whitewash after some fumbled handling by the hosts inside their 22.
Dale Ford soon grabbed a third before they wrapped it up with a penalty try from the rolling maul bringing up a second half bonus point.
Speaking after the match, Jason Strange said, "it's probably similar to a few other games, where we've played some really good rugby in the first half and if anything, we probably should have been further ahead heading into the break. Second half, we lacked consistency.
"That's the one major area where we need to get better, we're having a few wobbles in games where for 5-10 minutes it's costing us dearly. Whether that's individual missed tackles or concentration, we need to sustain a high-level performance for 80 minutes.
"This is probably longer term to sort it out. This season was always a case of coming in and assess where the club and team was and rebuild for next year with a new squad.
"We've been pretty honest with the players the last 2-3 months, and we've retained everyone we wanted to. There'll be quite a lot  of changes but that'll be for the betterment of the club and this is probably a good time where we need to refresh and reset the squad for the future.
"Evan Lloyd, Joe Westwood, Alex Howe will only get better. It'll be built around the longer term for the squad next season."
Ebbw take on Carmarthen Quins this Saturday (2.30KO) in a key clash for the Steelmen. The clash was due to take place several weeks ago, but Storm Franklin put kibosh to those plans and so we arrive in this position with a mathematical possibility of finishing fourth, would you believe?
Ok, that's massively unlikely, but should the Steelmen take the full 15 points it would put us in fourth, one point behind where Merthyr sit now. Of course, a lot of rugby is to be played out of our hands, but it's always nice to look ahead and see what could be possible with the squad we've accumulated.
Eager eyes will have seen Rhys Downes returning to the side after a spell away from the club, he'll come off the bench to make his Ebbw return. A much-needed boost after a tough trip to Aberavon last weekend that saw the first half pull the game too far away for Ebbw to hope of a result.
Quins will deliver a very strong pack and developed gameplan, and sit 12 points above us in the table, but only two spots higher. Llandovery filling in the gap.
Jason's men now sit ninth in the table, seven points above the bottom placed Bridgend Ravens, and with both Bridgend and Pontypridd yet to come, it could yet be an exciting end to what has been a difficult season.
Bridgend has now been re-arranged for a Thursday night kick off on April 27th, rounding off the season after we travel to Sardis Road for the second time this season. With this weekend being the final Saturday afternoon game at the CiNER GLASS Community Stadium this season let's make sure we pack the bank and make Quins #FEELTHESTEEL!!!
You can pre-purchase tickets here; Indigo Welsh Premiership – Saturday 9th April – Carmarthen | EVRFC or you can still buy them on the gate.
Ebbw Vale Side To Play Carmarthen Quins
Your Steelmen side to take on Carmarthen Quins this Saturday in the Indigo Group Welsh Premiership at the CiNER Glass community stadium is as follows. Former Ebbw Vale scrum half Rhys Downes comes in on permit from Newport RFC.
Pre purchase tickets here https://www.evrfc.co.uk/product/indigo-welsh-premiership-saturday-9th-april-carmarthen/
Team:
15 Dan Haymond
14 Dafydd Howells
13 Joe Westwood
12 Dom Franchi © 
11 Jordan Thomas
10 Evan Lloyd
9 Matthew Flanagan
8 Alex Howes
7 Joe Thomas
6 Dan Hill
5 Ethan Doyle
4 Lance Randall
3 Dave Whiting
2 Mikhail Blake
1 Luke Garrett
Replacements
16 Lewis Kinsella
17 Rob Sevenoaks
18 Joel Harries
19 Corey Talbot
20 Gethin Williams
21 Rhys Downes
22 Ollie Andrews
23 Mike Powell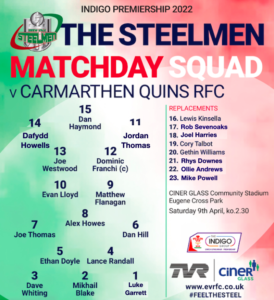 Ebbw Vale Side To Play Aberavon away
Your Steelmen side to take on Aberavon on Saturday 2:30pm at the Talbot Athletic Ground in the Indigo Welsh Premiership is as follows
Team:
15 Dafydd Howells
14 Mike Powell
13 Joe Westwood
12 Dom Franchi © 
11 Jordan Thomas
10 Evan Lloyd
9 Matthew Flanagan
8 Alex Howes
7 Joe Thomas
6 Dan Hill
5 Ethan Doyle
4 Lance Randall
3 Dave Whiting
2 Harry Bee
1 Arron Coundley
Replacements
16 Lewis Kinsella
17 Luke Garrett
18 Rob Sevenoaks
19 Corey Talbot
20 Alex Grey
21 Morgan Lloyd
22 Rhys Jones
23 Dan Haymond