Monthly Archives:
July 2019
The WRU have altered their deadline for the submission of orders for 6 Nations tickets. As a consequence all requests from members must be received by 26th August 2019. This date supersedes the date shown on the forms already issued with season tickets and we apologise for the inconvenience but hope you'll appreciate that we are bound by the Union's timescales.
Further information will be provided, nearer to the deadline date, with details of when and where to bring your requests.
Alan and Mark will be in the clubhouse on Thursday 8th August from 6pm until 7pm to sell and distribute season tickets.
Please, if possible, collect your season ticket before the first match in order to reduce the congestion around the office as people clamour for their tickets.
The Annual General Meeting of Ebbw Vale RFC will take place at the club on Thursday, August 15th at 6:30pm. All 2018-19 members are entitled to attend and are warmly invited to do so.
The AGM of Steelmen Rugby Limited (the company not the rugby club) will be held on Thursday 15th August 2019 following on from the club AGM (above).Items for the agenda should be emailed to Alan Gall at
agall92644@aol.com
to reach him no later than 7th August. The agenda will be circulated prior to the meeting along with any supporting papers
As well as everything advertised on the poster, Alan and Mark will be there to distribute season  tickets to existing members and to sell season tickets to new members. There's no better way to show your support for the Steelmen. And the best news is that season ticket prices remain the same for the third season in a row. Bargain!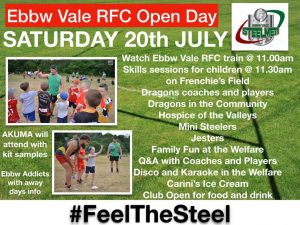 Martyn Cooke, who has been Team Manager for the last four and a half seasons, has made the decision to step down  and will be replaced by Darren Venn who has been working in a variety of roles at the club including covering the Team Manager role as and when required. Martyn made the following statement:
"It's been a very difficult decision but, it's  with a heavy heart that I have decided to leave the club. It's been a big part of my life for the last four years and one where I have made some good friends along the way. I have been lucky enough to work with so many talented players, experienced coaches, great back room staff and volunteers. I wish the club good luck for the coming season and will definitely support Ebbw when I can. Thanks again  – Feel The Steel!"
Darren had this this to say on his change of role: "As I embark on my third season at Ebbw I am delighted to have been appointed as Team Manager. My time at the club has been extremely enjoyable working with fantastic coaches, players and not to forget the best supporters in Wales. I have extremely big boots to fill following Martyn's departure  but I am excited and fully committed to help the club fulfil its vision and ambitions."
The club would like to thank Martin for his hard work and dedication during this period and wish him every success for the future, but are delighted that the experienced Darren Venn has stepped into the role to ensure a seamless transition at a busy time of the year.
Another local product joins the club for the coming season and will provide a further challenge to what is already a highly competitive area of the squad. Craig Fillier, a tough, uncompromising character – as befits a serving soldier – joins the club and, with the ability to play right across the back row, is an excellent acquisition. Craig had a brief spell with Bedwas last season but is best known for his exploits for Brynmawr RFC where he scored three tries in the Plate final at the Principality Stadium in 2018 in the highly successful team that also won Division 1 East, and has an impressive list of honours as follows:
Gwent Dragons – U16, U18s, U20s
Wales Rugby Union 18s and U20s
Wales Rugby League U19s
British Army Rugby Union (12 Caps) – Including Army Vs Navy at Twickenham and featured in the Forces World Cup.
Combined Services (2 Caps)
Plate Cup Final Winner with Brynmawr RFC – 2017/2018.
Craig said, "I am delighted to be joining such a historic, proud club as Ebbw Vale. As a local boy from Blaina, me and my dad held season tickets at the club and attended all the home games. So it's a real privilege to be part of the team I have such fond memories of watching and admiring as a youngster. I'm looking forward to the season ahead and relish the opportunity to be a part of this great club."
Congratulations to the following players who received awards at the club dinner on Friday night.
Dan Haymond (Clive Burgess Man of Steel)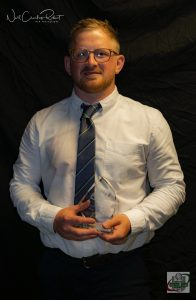 Rhys Jones (Denzil Williams Players' Player, Addicts Player & Top Points Scorer)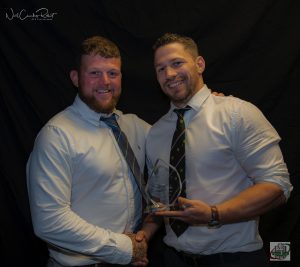 Ronny Kynes (Gareth Howls Captain's Award)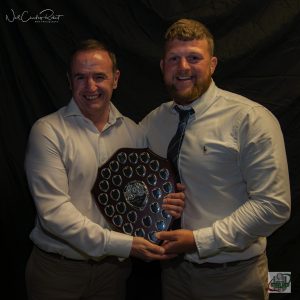 Ashley Sweet (Ivor Evans Clubman of the Year)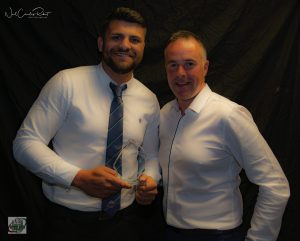 Paul King (Colin Brennan Award for Most Promising Player)
Lloyd Evans (Top Try Scorer)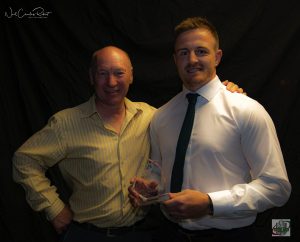 Ross Jones (Dr Gordon Thomas Award)
Joe Franchi was awarded his 100 appearances cap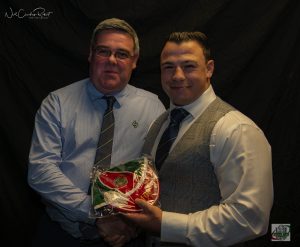 We are pleased to announce the following pre-season matches.
At Blaenavon RFC on Thursday  August 8th at 7:30pm
At Brixham RFC on Saturday August 17th at 12:30pm
At Nantyglo RFC v Bury St Edmunds on Saturday 24th August at 2:30pm
We would like to take the opportunity to thank the officials at Nantyglo RFC for allowing us to use the excellent surface at Banna Park once again.