Monthly Archives:
September 2020
Steelmen Continue Support For Hospice Of The Valleys
"During the initial crisis caused by the Covid 19 Global Pandemic the work of the key workers within the country led by the NHS has been outstanding in exceptionally difficult circumstances.
As a club we came together and decided to support our local Hospice to help their fundraising to provide care for people in great need. We organised a donations page, re run of the 2016 Premiership Final and also branded Ebbw Vale RFC face masks which was a huge success. We would like to thank everyone for their support so far!
The coaches, players and officials at Ebbw Vale RFC had a meeting last week and have decided that we will expand our fundraising for the Hospice and we will be launching a charity old fashioned Bobble Hat incorporating the club and hospice colours. This will be an essential item for the cold winter and also support the hospice and club.
These will be priced at £16 and to order your bobble hat ready for the winter please email marketing@evrfc.co.uk payment will be by BACS transfer and details of the club's account will be supplied to you when you place your order.
"As a club we have partnered with such a worthy charity "Hospice of the Valleys" and so far raised a great amount of funds, but we don't want to stop there. I know that it is a charity that is close to so many people who are associated with the club and the town itself. Hopefully this new initiative with the old school bobble hats will bring increased awareness of the Hospice and funds. As a playing and management group we will be looking to help out as much as we can and I am sure you will agree it is a great choice and worthy cause."
Greg Woods
Ebbw Vale RFC
Head Coach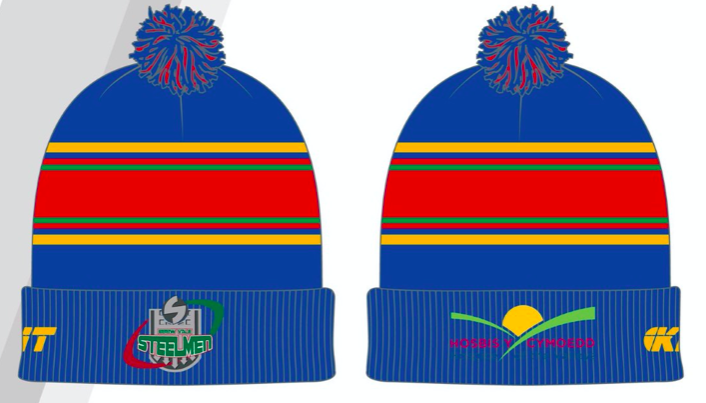 It was with great sadness that the club learnt of the death of former player, Phil Kingsley Jones, in New Zealand where he had lived for many years. Phil, a front row forward in his playing days for Ebbw Vale, Abertillery and Blaina, was the first generation to play for the Steelmen, followed by his son Kingsley and grandsons, Rhys and Dorian with Rhys still maintaining the family playing link with the club.
Phil became widely known for his role as a coach, mentor and manager of the rugby phenomenon that was Jonah Lomu, the first truly global rugby icon. Phil guided his career and ensured that his talent was recognised throughout the world.
Many in the Ebbw Vale area are eternally grateful to Phil for bringing Jonah to Ebbw Vale where he wore the Steelmen colours in a friendly game. Rugby fans old and young queued for autographs from the All Black giant with a smiling Phil by his side, the sense of pride in his protégé only matched by his pride in the area he came from.
As well as his work with Jonah, Phil was widely respected for his 30 years service to Counties Manukua rugby in various roles. His success as a coach led him to coach the Tongan national team and create another Steelmen link with guiding second row Kuli Faletau and full back Josh Taumololo to Ebbw, after a request from his son who was captaining the club at the time. Both played starring roles in the club's success at the time and this action by Phil has also had a major influence on Welsh rugby with Kuli's son Talupe becoming a star player for his adopted homeland. It is expected that several other sons of Tongan imports will make their mark on Welsh rugby in the near future.
Away from the game, Phil became a professional comedian and can only be described as a larger than life character who would fill a room with his presence and ensure a laugh and a smile for all in his company.
Our thoughts are with his wife Verina, daughters Vikki and Rhiannon and stepson James, along with those close to the Steelmen, Kingsley Jnr, Rhys and Dorian.