Monthly Archives:
December 2017
Chairman Jon Jones is delighted to announce that Greg Woods will be joining the Steelmen as Head Coach and will take up his role on January 8th.
Jones said " We were delighted that a coach of Greg's standing put himself forward for the role and as a man with superb experience in Premiership and Gwent rugby we felt that he was the ideal person to reverse the fall in performance and return the club to the top end of the Premiership. With over 500 games in the Premiership, creating highly competitive teams , a National Cup Winner and B&I Finalist Greg will bring a clear focus and the experience required for the task in hand. Out of respect for Greg's 15 years at Cross Keys we have agreed to a handover period that takes the clubs through to the next break in the season.
The remainder of Greg's coaching team will be identified in the next week or so
In the meantime I would like to thank the WRU and Dragons for allowing members of the coaching staff to take us through this period, giving the club the space to ensure it took a measured approach to the coaching team appointments
I'm sure Greg can expect a warm Ebbw Addicts welcome as he takes up his new post."
The club shop will be open  from 6pm until 9pm this Thursday 21st of December for all your last minute, Steelmen-related Christmas purchases.
It is with much sadness that we have heard of the sudden passing of Steelmen supporter Ruth Sheppard (December 3rd).
Ruth had been a committed Ebbw Addict for years and was regularly seen alongside her father Gary until his passing in early 2016. Together they played a big part in sprucing up the ground ahead of our Premiership return as well as following the team everywhere. A huge smile has left our ranks and our thoughts are with her husband Adrian, and children Jess and Dan.
Ruth's funeral will take place St George's Church, Tredegar at 1pm on Friday, December 15th. This will be followed by cremation at Llwydcoed, Aberdare at 2pm and a get together at The Welfare, EVRFC afterwards.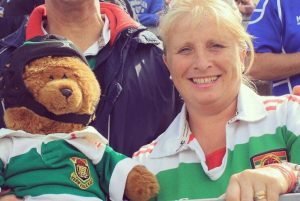 Statement from Lee Davies
It is with great regret that I announce that Ben and I have decided to step down from our roles as coaches at Ebbw Vale RFC. This wasn't a decision we took lightly, however when we weighed up our options we felt the club and players weren't moving forward under our guidance. It took honesty from players and staff to identify this and we thank everyone for their honesty.
As a group we have felt a substantial amount of pain over the past three months, and we feel we have exhausted many avenues aiming to move us forward as a coaching and playing group. To prepare for a Saturday game takes hours of analysis, planning and delivering. So I thank all for their input.
With both of us heading up rugby programmes in successful college and university academies, we have decided to take some time out and concentrate on these pathways. This will also give us time to reflect and learn from the experience and spend some much needed time with our young families.
We would like to take this opportunity to thank everyone at the club for their support and efforts over the past 18 months. The club is evidently in a huge transitional process and I urge everyone to be patient; it will take time and I am sure former glory will be restored.
Finally on a personal level I will always hold the club in a fond place, having spent time there as a player and now granted a shorter period than planned as a coach.
Those who have supported us, once again thank you. Best of luck for the rest of the season, and more importantly next season when it counts!
Chairman Jon Jones has added the following
It is with a heavy heart that I have agreed this course of action with Lee and Ben as the best for the club and them as individuals. They are men of integrity and honesty and are also extremely hard working and passionate in what they do. Both are quality young coaches and I am sure that they will learn from the experience and go on to success in the future careers. Both Lee and Ben will always be welcome at the club and I look forward to seeing them do well in the future.
I personally will reflect on what all at the club and particularly I could have done to prevent this end result and work hard to ensure we learn from it and come back stronger and better equipped to return the club to the position we all desire
The club has begun its search for a new coaching set up and will update you all as we move forward.