Monthly Archives:
June 2020
Ebbw Vale supporters can now purchase reusable branded face coverings so you can stay safe as lockdown measures ease across Wales.
Following on from a number of requests from fans we are working with VX3, we are delighted to announce the new coverings are available to pre-order NOW for £6.
The face covers are available in adult and juniors sizes and are washable, reusable, provide a large covering and are triple layer in line with World Health Organisation (WHO) guidelines for non medical masks.
The latest advice from the Welsh Government, based on updated guidance from the WHO, is to wear face coverings in situations where social distancing is not possible, such as on public transport. For more information from the Welsh Government click https://gov.wales/3-layer-face-coverings-recommended-not-mandatory-certain-situations-wales
Our new Ebbw Vale RFC face coverings will take around 3-4 weeks turn around, if you require postage you will need to say so in the email, provide address and also postage will be an additional cost on top of the mask price. Postage is £1.50.
Please note: All of our face coverings are for personal use. They are not suitable for hospital / medical use and therefore do not take away from NHS supplies. They are NOT medical grade masks or personal protective equipment (PPE). For more information please click https://www.gov.uk/coronavirus
To order and purchase your Ebbw Vale RFC Face Covering email marketing@evrfc.co.uk by Monday 22nd June 3pm.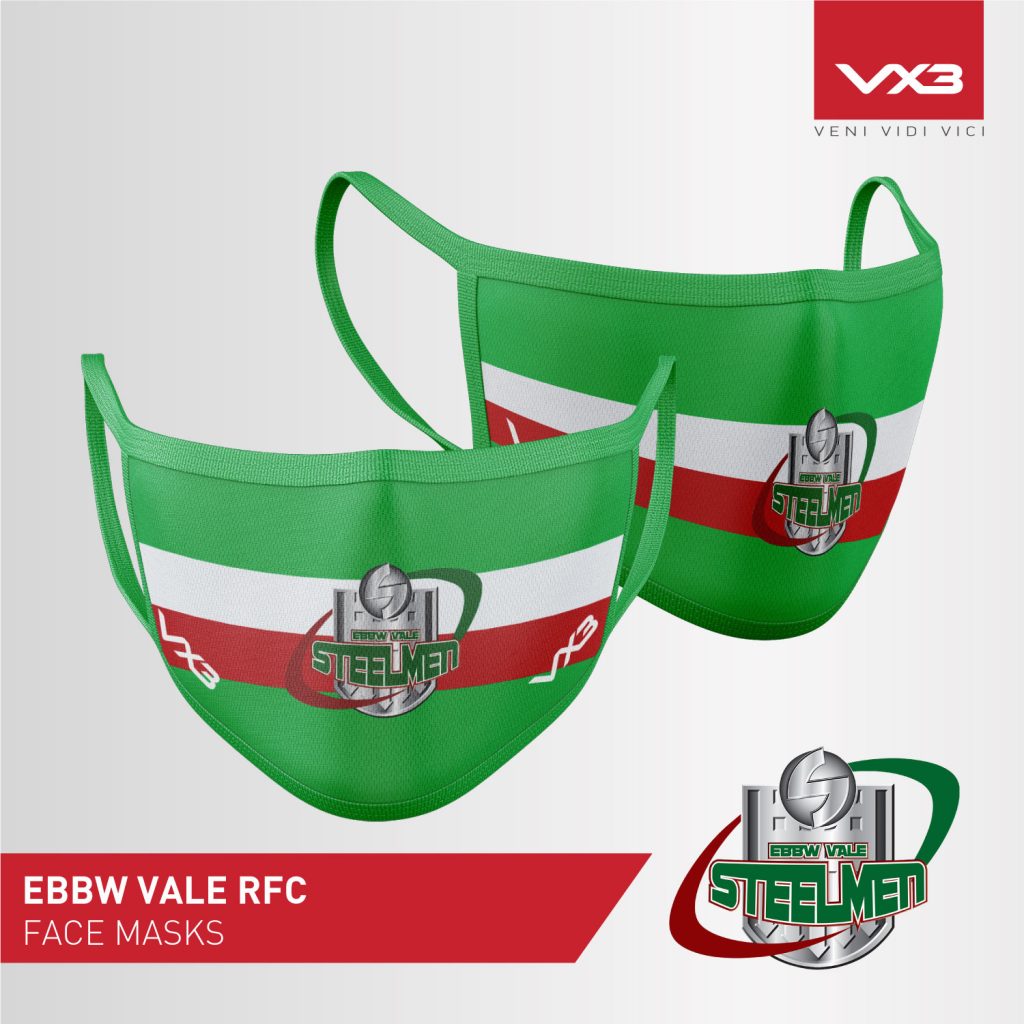 Mr Elvet Williams
It is with great sadness that the the club has learned of the death of Elvet Williams, father of long serving former hooker Mathew "Chunky" Williams. Elvet was a familiar face to all at the club as he followed his son's career at the Steelmen at both home and away fixtures, and was well liked and respected by everyone. Elvet was always happy to chat over a pre- and post-match drink, clearly enjoying the performance of his son and team mates as well as the atmosphere in the clubhouse.
Our thoughts are with Mathew and his family at this sad time.
Volunteers generously give their time and dedication to make the club run smoothly across every aspect of its activities. As we have entered National Volunteer Week, the club wishes to thank all of the volunteers that make everything possible for all our players to take the field. From the tiny under 7's, to the players at the height of The Indigo Premiership, the support given by our volunteers is invaluable. While we have been without any rugby for such a long time now, when the time comes to start again our volunteers will be a big part of it.
Club Chair Jon Jones said, "The sport of rugby in Wales has always been and will continue to be highly dependent on an army of volunteers who perform a multitude of tasks that allow the on field action to take place. These range from manning gates, serving food, managing kit, cleaning changing rooms, serving food and providing the skills that manage finances and social media. In essence, there are roles available to everyone and the satisfaction of contributing to your sporting community and developing a wider social network is a great reward for your efforts in contributing to a key part of the fabric of our communities.
Every club will welcome more volunteers, and the one positive to come out of the Covid pandemic, is the number of volunteers who have leapt into action to assist those in need of help. We salute those volunteers and those active in all volunteer roles throughout the country in National Volunteer Week and would urge people to get involved with your communities' rugby club to allow the positive benefits that sport brings to be a key part of the future of our communities."
Mini & Juniors Chair, John Prendergast, said, "This week, we enter National Volunteers Week and the management of the Ebbw Vale Steelers Mini and Juniors section would like to take this opportunity to convey its thanks to the army of volunteers who commit time each week for the development and participation of children within rugby across our structure.
 Weather is not the kindest in Blaenau Gwent, but each week our volunteers endeavour to give time to the cause, on the sometimes wet, sometimes frozen and occasionally perfect playing fields of North Gwent. Many of the roles are front line, such as coaches, coach assistants, refereeing and first aiders; however, other roles are more administrative, whether that is team management, organising fixtures, financial management or more. Volunteers' time is needed for a wide variety of functions.
Without volunteers, rugby activity cannot go ahead and it is with great pride we celebrate the input of these hardy souls. A club can never have enough volunteers, and as we develop we are always looking for more help. If you think you can help in anyway, contact the club and we can discuss where you can support. It is highly rewarding seeing our players develop from U7 through to U16 pathway. You can help develop the next Rhys Jones or Joe Franchi!"
As part of our fundraising for Hospice Of The Valleys and the club we have launched a charity T-shirt and vest to help raise vital funds for such a great local cause that does so much amazing work in the community close to the club. Teaming up with club kit partners AKUMA these once in a lifetime items are a must to have for this summer as well as supporting a local charity.
To order your charity club t-shirt or vest please contact marketing@evrfc.co.uk.
Orders will be going in on a weekly basis and will have a minimum 3 week turn around due to the current Covid-19 situation.

T- Shirt £18.50 (available in red, green or white)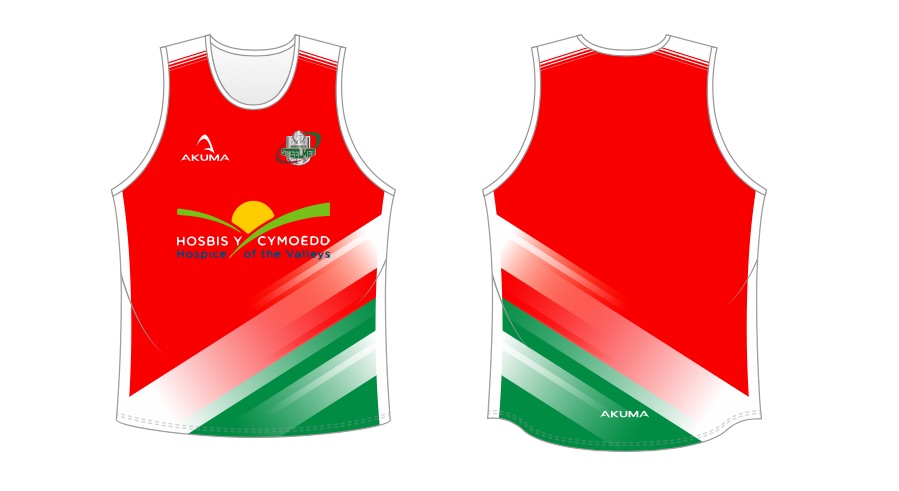 Vest £30
Adults' sizes:
S 38" Chest
M 40"
L 42"
XL 44"
2XL 46"
3XL 48"
4XL 50"
5XL 52"
Children's sizes:
Baby 19"
Infant 21"
XSC 24″
Child 25"
JNR 27"
XSB 29"
SB 31"
MB 33"
LB 35″
Ebbw Vale RFC can confirm that the following 2 players are leaving the Steelmen for pastures new and all at the club would like to thank them for their excellent service and wish them all the best for the future.
Scrum Half Dai Jones leaves the Steelmen after 10 seasons with only the brief interruption of a short stay at Bedwas during this period. Dai was signed by Neil Edwards and was a key man in the winning of two Division 1 titles and two Championship titles, as well as being an active member of the squad that returned to the Premiership. Dai will be missed within the squad and the Ebbw Addicts due to his approachability and character. At this point, he has not made a decision around his future rugby career.
The second departure is that of Dai Langdon who has played at 10 and 12 for the club with great distinction. He returned to the Steelmen, who he'd represented as an 18 year old Dragons Academy player, from Neath RFC where he had spent a number of seasons. Dai was the outside half who in fierce competition for the number 10 shirt guided Ebbw Vale to success in the title winning 2016 Premiership campaign. Dai will be returning to Neath RFC as they look to put pressure on last year's Championship front runners Pontypool and Bargoed and will add his undoubted skills and experience to the Gnoll. Dai is another who has been very popular within the squad and amongst the Ebbw Addicts and we wish him the best of luck in guiding Neath in their title challenge.
The other updates at this point are as follows:
Scrum half Sam Ireland, after sustaining a nasty concussion playing as a centre replacement in the heavy defeat in the National Cup tie at Cardiff in early November, is making progress and for the first time has been able to increase his training workload over the last 6 weeks. Sam will join the squad whenever pre season training starts and will be assessed by the club's medical team through the training period to ensure it is safe for him to return to Indigo Premiership rugby. All at the club will be pleaseD to see this skilful and likeable player successfully return to rugby.
Head Coach Greg Woods has started tentative discussions with the Dragons Academy, so He and his coaching team have an outline of the likely available players from our Regional partners. Once the the current Covid restrictions are lifted, and all are back in their roles, the discussions will be advanced further.
The Steelmen recruitment team still have an eye on players becoming available and may add to the current squad should the correct quality of player become available. There is also a group of 8/10 young players who have been invited to pre season training by the coaching group and we are looking forward to welcoming them to the club as soon as it is safe and appropriate.
Support The Steelmen & Hospice Of The Valleys
"During the crisis caused by the Covid 19 Global Pandemic the work of the key workers within the country led by the NHS has been outstanding in exceptionally difficult circumstances. Many people have raised significant sums of money including Captain Sir Tom Moore who raised over £30m for the NHS. Along with businesses the charitable sector has seen significant losses to their income with events cancelled and the closure of their retail fund raising arms. The officials at Ebbw Vale RFC have considered how we can help in some way and we believe that as a club that owes its excellent home facility to a Miners' Welfare Trust we should look to support a local charity.
We are delighted to launch a fundraising partnership with Hospice of the Valleys whose main facilities are a mile away from our Eugene Cross Park home. The Hospice has been a strong and welcome presence in the community of Blaenau Gwent for a number of years providing a fantastic service to those affected by cancer and dementia. Many within the club have faced the difficulties caused by the these all too prevalent illnesses and as a club we have taken part in fund raising for the Hospice for a number of years. Their work within our community underpins the work of the NHS in these areas and is extremely important in providing a level of care that all within our fantastic community deserve and we want to play a part in ensuring that the this wonderful and needed work continues as strongly as it has for many years to come."
Jonathan Jones
Chairman Ebbw Vale RFC
"As proud ambassador of Hospice of the Valleys, I'm very happy to be supporting Ebbw Vale RFC in their joint venture with the Hospice in raising vital funds for both organisations. The amazing staff at the Hospice provide vital care and support for people in our community with life limiting illness. Throughout this current global crisis, the Hospice has continued to provide the exceptional services to those in greatest need.
As a former Ebbw vale player, it's a privilege to be supporting a genuine community club, with a rich history in Welsh rugby and strong cultural values. These unprecedented times are certainly a challenge for us all. However, I believe it's also a time that brings out the best in people. An opportunity for us as individuals to shine, by giving back to our community.
Theses times will pass, we will shake hands, hug and have a drink together again. So, until then will you please support these two great organisations in whatever way possible? As always, we are so grateful for your support and friendship.
Stay safe & well."
Byron Hayward
"It's fantastic to see that as a club we have partnered with such a worthy charity "Hospice of the Valleys" for the forthcoming 2020/21 season. I know that it is a charity that is close to so many people who are associated with the club and the town itself. Hopefully this association will bring increased awareness and funds to the charity over the year. As a playing and management group we are looking forward to getting involved and helping out as much as we can and I am sure you will agree it is a great choice and worthy cause."
Greg Woods
Ebbw Vale RFC
Head Coach
"Our Hospice of the Valleys team are working alongside our NHS colleagues in the community providing support wherever it is needed, be it in a patientKs home, in hospital or in one of the fourteen local care homes. Our amazing Hospice at Home team are helping to protect the NHS by helping to avoid hospital admissions where we can, our team are truly on the frontline providing palliative care where our patients and those who matter most to them need us now more than ever before. The demand on our services has not gone away as we continue with our day to day support and also deal with Covid-19 on top of this. We need the support of the local community to help us raise vital funds and continue being there for our patients and their families.
We must say a huge thank you to Ebbw Vale RFC who have chosen to support the Hospice at this challenging time, we know our Hospice means so much to the club, its players, supporters and community as a whole who have really taken the Hospice to their hearts. We also hope that this fantastic initiative receives the support it deserves which will of course benefit the Club and Hospice in helping to secure the futures for us both."
Julie Williams, Business & Community Fundraising Manager, Hospice of the Valleys
About The Hospice
Hospice of the Valleys provides specialist palliative care to the people of Blaenau Gwent. We work with people who have a life limiting condition such as heart failure, COPD and cancer. Specialist Palliative Care can help patients and their families with physical, emotional, social and financial problems that are difficult to control. We can help to plan ahead, provide support at the end of life and through bereavement. Patients may only need care from the Hospice for a short time and can be discharged from us if their symptoms are controlled. We also have a designated service for patients with dementia and their carers called CARIAD (Care and Respect in Advanced Dementia).
Our team is made up of professionals who have all had additional training and experience in palliative care. The team provides care for patients:
· at home;
· in their regular place of residence including nursing homes, Ysbyty Aneurin Bevan or Ysbyty Tri Chwm; and,
· at our out-patient clinic in the Hospice in Ebbw Vale.
To help us raise money towards the Hospice Of The Valleys and club we are offering supporters the opportunity to 'pre-order' a certain number of Ebbw Vale RFC packages and experiences.
Please support this initiative in any way you can by clicking the following link to purchase:
https://www.crowdfunder.co.uk/support-the-steelmen-hospice-of-the-valleys