Ebbw Addicts Information
ADDICTS MEMBERSHIP 2018/19
Full Membership    £7
Concession £5
Under 16s   FREE
FOR BOOKING SEATS ON BUS
CONTACT NUMBER: 07766490358
EMAIL:  ebbwaddicts@yahoo.com
 AMPTHILL AT BEDFORD RFC 18/08/18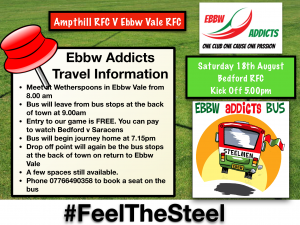 WEEKEND TRIP TO RGC
Ebbw Vale V RGC
Saturday 15th September
The Addicts will be running a weekend trip to RGC on Saturday 15th September.
The group will leave from Wetherspoon's in Ebbw Vale at 9am on Saturday 15th September to travel to Llandudno where they will stay at the Premier Inn (Glan Conwy)
After a short break at the hotel, the group will travel to Parc Eirias for the game.
After the match, the group will return to the hotel where you will have the chance to go into Llandudno for the evening or stay at the pub by the hotel. (bus will drop the group into Llandudno but you will need to find your own way back to the hotel)
On the Sunday morning, the group will have breakfast at the hotel before leaving for Ebbw Vale at 10am.
On the way home, we will stop for a couple of hours in Hereford for lunch, before returning to Ebbw Vale at approx 4.30pm
COST OF TRIP
£95 per person (based on two people sharing a room)
A non-refundable deposit of £40 will need to be paid when places are booked on the trip.
(Places need to be confirmed by Thursday 9th August)

Rest of money will need to be paid by Friday 31st August
PRESEASON GAME V BRIXHAM RFC
Saturday 11th August
Addicts Bus
The Addicts will be organising a bus to the above match.
The plan us to meet at Wetherspoon's at 8am for breakfast before leaving for Brixham at 9am.
After the match, the group will stay at Brixham RFC until around 8pm before returning to Ebbw Vale
Pick-Up and Drop-Off will be at the bus stops at the back of Wetherspoons
Phone 07766490358 to book a place
Or email ebbwaddicts@yahoo.com
#FeelTheSteel
LATEST NEWS
Dinner & Presentation
The Annual Club Dinner and Presentation Evening will take place at The Welfare on Friday, June 28th, commencing 7pm. Tickets are £30 per person and are bookable via contacts on the poster, above.
Read More