Monthly Archives:
December 2021
Ebbw Vale RFC can confirm that our Indigo Welsh Premiership League fixture against Pontypridd RFC on Monday 3rd of January 2022 at Sardis Road has been postponed.
The decision has been made mutually between both clubs following the changing landscape of the public health situation relating to the Omicron variant of Corona Virus, and the Welsh Government decision to force all sporting events in Wales to be played behind closed doors from 26th December 2021.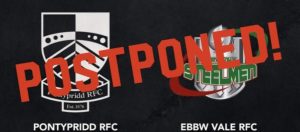 Due to the uncertainty around the new restrictions the Indigo Welsh Premiership fixture against Newport On December 27th has been postponed. We will update you on when this fixture will be played as soon as we can.
The Club shop will be open tomorrow (Saturday) from 1 til 4 for Christmas stocking fillers
---
Due to a mix of people across the club displaying symptoms of Covid, positive cases at the Wales U20's training camp. The club has taken medical advice and have reluctantly taken the decision to postpone tomorrows fixture against Llandovery
Ebbw Vale Side To Play Llandovery
Your Steelmen squad to take on Llandovery this Saturday in the Indigo Welsh Premiership, our last home game before the Christmas break.
We are calling on the Ebbw Addicts to come down to the CiNER Glass community stadium in your Christmas jumpers and shout on the boys as our 16th Man from the bank! 
We are asking supporters and visiting supporters to buy your tickets online in advance, you can buy them here https://www.evrfc.co.uk/product/indigo-welsh-premiership-saturday-18th-december/
1 Arron Coundley
2 Connor Chapman
3 Rob Sevenoaks
4 Ethan Doyle
5 Cory Talbot
6 Alex Howes
7 Dawid Rubasniak
8 Lewis Young
9 Jonathan Evans (c)
10 Evan Lloyd
11 Dafydd Howells
12 Ethan Phillips
13 Joe Westwood
14 Ewan Rosser
15 Dan Haymond
Substitues
16 Harri Bee
17 Ross Jones
18 Adam Williams
19 Frankie Suto
20 Owen Young
21 Matthew Flanagan
22 Rhys Jones
23 Ryan Evans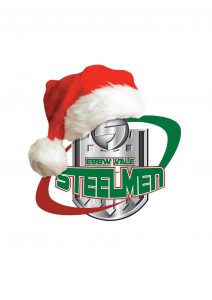 Ebbw kickstarted their Indigo Group Premiership season off with a disappointing result away to Merthyr. Despite a 31-13 score line in favour of the Ironmen, Ebbw left with a decent performance to get Jason Strange's second period in charge f the club underway.
The Steelmen got the scoreboard underway when Evan Lloyd kicked the first of his penalties, only to see Sam Jones of Merthyr cross the whitewash to give the host the lead. Lloyd soon grabbed another penalty to get the visitors within a point, only top be pinned back by a try from Merthyr skipper Craig Locke. Merthyr would add another penalty before the break. 
Daf Howells got Ebbw's first try with a neat little play inside Merthyr's 22, but that was to be the last of Ebbw's ventures over the whitewash. Tries from Tom Daley and our old nemesis 'penalty try' widened the gap to a rather flattering score line, despite a deserved result for Merthyr. 
Ebbw will now face their first east vs west clash when Llandovery travel to town this Saturday, so make sure to pack the bank at the CiNER Glass Stadium and make the Drovers #FEELTHESTEEL!!!
Ebbw Vale Side To Play Merthyr Away
Your Steelmen squad to take on Merthyr this Saturday in the opening fixture of the Indigo Welsh Premiership at the Wern 14:30 ko. It is Jason's first game in charge and we are calling on the Ebbw Addicts to come and shout on the boys as our 16th Man!
Don't forget it's Christmas Jumper Day & Santa's Hat or Santa Suit Saturday 🎅 Have you got yours ready?
1 Arron Coundley
2 Mikhail Blake
3 Rob Sevenoaks
4 Joe Peard
5 Dan Hill
6 Alex Grey 
7 Owen Young
8 Lewis Young
9 Jonathan Evans (c)
10 Evan Lloyd
11 Jordan Thomas
12 Ethan Phillips
13 Joe Westwood 
14 Mike Powell
15 Dafydd Howells
Substitues 
16 Connor Chapman
17 Adam Williams
18 Luke Kinsella
19 Ethan Doyle
20 Ben Moa
21 Matthew Flanagan
22 Dan Haymond
23 Ewan Rosser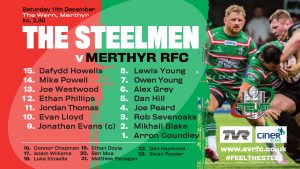 We have received notification today from kit partners akuma that all orders that have been placed recently will be posted out by December 23rd. Due to production times we cannot take anymore orders now in time for Christmas delivery.
Thanks
Ebbw return to Indigo Group Premiership action with a trip to local rivals Merthyr. It'll be a return of a new dawn for the Steelmen as Jason Strange re-takes control of the reigns at the CiNER Glass Community Stadium.
Jason will be hoping his side can repeat their fortunes of the last trip to The Wern and walk away with a victory to end an eight-game losing streak.
Having had a fortnight off, Ebbw have rested some weary bodies ahead of the vital clash in a shortened Premiership season. There will be no relegation and you'll play every team home or away.
Merthyr battled strongly in the Cup, finishing a sturdy third. Both fixtures between the Ironmen and Steelmen have been closely fought ones, and it is expected that the decider will be the same. 
Merthyr beating Ebbw 20-16 away, following Ebbw's last minute 26-24 triumph to kickstart their campaign back in September.
It is hoped that the rest period may help the likes of Corey Talbot, Lewis K Williams and Dafydd Howells get back to fitness and create some depth once again.
A quick reminder to supporters that it is a Christmas jumper game, but make sure to get plenty of red, green and white over the valley to get the boys back on track and ensure that Merthyr
#FEELTHESTEEL #STEELMEN
Jason Strange has returned to Ebbw Vale RFC as Head Coach and met the squad at the club last night where he laid out his plans for the squad in the coming league season.  He will combine this role with his work at St Helens Rugby League Club and in no stranger to combining high profile roles having successfully done this in the past with Wales U20's and Ebbw Vale RFC
He is in the process of completing his coaching group and is confident that this will be in place by the end of the weekend and will bring a mixture of experience and ambition
Chairman Jon Jones made the following comment
Having initially approached Jason for advice on the search for a new coaching group it became clear that Jason wanted to return to the club, that was the quickest and simplest decision I have ever made in rugby. He is a top quality coach and person who I have a lot of history with and  a great working relationship. He understands the club, the community and has a clear idea how to improve team performance and the club overall. His track record at Ebbw Vale, Wales U20's and St Helens speak for themselves and I am looking forward to working with him again.  I would also like to take the opportunity to thank St Helen's Rugby League Club for allowing Jason the space to make both roles manageable
Jason had the following to say
I'm really looking forward to going back to the club and I'm positive with the right individuals involved we can replicate past successes and make supporters proud again. The club has been very good to me over many years as a player and coaching if I can give up some of my time and help in a small way then that is fantastic.It will mean a fair amount of commuting for myself between St Helens rugby league but it is helpful that the Super League season doesn't start until Mid February and runs through the summer months
There are some outstanding people like Chairman Jon Jones still involved at the club who make it what it is. The club and people involved have got similar values to myself and that is extremely important to me. I've been really fortunate in my career to have been in some very successful teams as a player and a coach and also to be in some horrific ones. The good thing is you stand back and learn why was that team successful and why a team was not very good.
The first priority for me is to get everyone going in the same direction towards a shared vision which will not only be about rugby success but also about the community and making a difference in the area. The club has always been a very important part of the community and hopefully it will once again again make a lot of people very happy