Monthly Archives:
October 2021
Iron beats steel in heavy metal clash
By Robert Rees
Ebbw fell to their fourth successive defeat at the CiNER Glass Community Stadium as Dale McIntosh's Merthyr came away narrow winners, 20-16.
It was the visitors who started stronger, enjoying a spell with ball in hand, sitting in the Ebbw territory for extended periods. It eventually told and just five minutes into the game, hooker Dan Wall crossing the whitewash, Gareth Thompson converting.
Ebbw grew into the game as the faithful on the bank became vocal. Thompson deliberately knocked an Ebbw attack on and was sent to the naught step for 10 minutes as a result.
Despite being a man down it was the 'Ironmen' who claimed the game's next points, three coming from the boot of stand-in kicker Rhys Davies.
Ebbw's set piece started to creak, and Merthyr took full advantage as they raised their game in hope of seeking revenge following a last-minute defeat in the reverse fixture earlier this season.
The power up front gave the backs a brilliant platform to work from and soon after winger Sam Jones grabbed Merthyr's second try of the game.
Only a late penalty for Ebbw via Joe Westwood's long rage effort would close the gap before half time.
Half time; Ebbw Vale 6-15 Merthyr
Playing into the wind, Westwood got the third quarter off with a bang, slotting a penalty over from right Infront of the dugouts, Ebbw looking more dangerous with ball in hand.
Unfortunately, some cutting edge attacks from the visitors saw them edge further ahead through fullback Rhys Davies. 20-9 up, it looked unassailable for Ebbw.
Some heavy shoving from the pack eventually granted the hosts some luck and former Wales international Daf Howells crossed for yet another try this season with the last play of the game. 
Ebbw walked away with a losing bonus point as Merthyr climbed above Pontypridd in the table.
The Ebbw Addicts Man of the Match went to Joe Westwood as Greg Woods' men get ready to go again in two week's time at Sardis Road against Ponty!
Woods adding; "The group seems to be positive as they can see growth in their performances, the younger players are a shining light and we're developing well in areas. Our attacking game was a lot better today, and we offered some threats. If we can get a platform, I think that could have been a win for us today, so a mixed reaction, but I can't fault their effort.
"We had seven U20s in there today and that's unheard of. Joe Westwood is looking amazing for someone with only three games of senior rugby under his belt and we'll benefit from these guys in the next 18 months.
"It's been a theme this year that we have to play more expansive now and Jack Harvey looks really good at giving us width in attack and some flow. We're playing with scraps, but if we can improve the set piece then we'll benefit.
"If we stay on this path, we're looking ok, we'll be fresh on a week off and have some injuries back to boost us. It'll be a fast and expansive game. We were loose in defence against Newport, but we had that balance today.
"Injuries have given Joe Peard, Ben Moa, Connor Chapman and Westwood game time which you'll see benefit everyone. I know the talent we have at our disposal that can be utilised in the next 12 months."
Looking ahead to Pontypridd in a fortnight's time he added, "the artificial surfaces have done us well this season, we can't wait to play on it. Everyone can see we're playing a more expansive game, but we must make sure we are sharp in defence because Ponty play a similar way and can hurt us if we make mistakes."
Ebbw Vale: Luke Garrett, Connor Chapman, Rob Sevenoaks, Joe Peard, Dan Hill, Scott Parsons, Alex Grey, Ben Moa, Jack Harvey, Ryan Evans, Carrick McDonough, Ethan Phillips, Dom Franchi, Dafydd Howells, Joe Westwood. SUBS; Mikhail Blake, Joel Harries, Scott Evans, Ethan Doyle, Lewis Young, Che Hope, Dan Haymond, Euan Rosser.
Merthyr: Chris Phillips, Dan Wall, Ollie Rees, Craig Locke, Shaun O'Rourke, Paddy McBride, Daffyd Stonelake, Tom Daley, James Soanes, Gareth Thompson, Alex Webber, Arron Pinches, Harley Thompson, Sam Jones, Rhys Rhys Davies. SUBS; Rhys Williams, Neil White, Keiron Williams, Callum Bradbury, Masa Tutaia, Adam Hoskins, Josh Martin, Ben Jones.
Ebbw Vale Side To Play Merthyr
Your Steelmen squad to take on Merthyr at the CiNER Glass Community Stadium Eugene Cross Park this Saturday in the Indigo Group Premiership Cup 14:30pm ko. 
We are calling all Ebbw supporters, our 16th man to come along and #PackTheBank and shout on the Steelmen! 
Please purchase your tickets in advance here https://www.evrfc.co.uk/product/indigo-cup-saturday-23rd-october-merthyr/ 
1) Luke Garrett
2) Connor Chapman 
3) Rob Sevenoaks 
4) Joe Peard 
5) Dan Hill 
6) Scott Parsons 
7) Alex Grey 
8) Ben Moa
9) Jack Harvey 
10) Ryan Evans 
11) Carrick McDonough 
12) Ethan Phillips 
13) Dom Franchi 
14) Dafydd Howells 
15) Joe Westwood 
16) Mikhail Blake 
17) Joel Harries 
18) Scott Evans 
19) Ethan Doyle 
20) Lewis Young 
21) Chay Hope 
22) Dan Haymond 
23) Euan Rosser
Head coach Greg Woods confident the future is bright for Ebbw Vale despite a third consecutive loss.
The Steelmen were well beaten on Saturday afternoon as Gwent rivals Newport claimed an impressive win at Ciner Glass Community Stadium to extend their winning run to four games and move top of the Indigo Group Welsh Premiership Cup East conference.
Tries from Dafydd Howells and Ethan Phillips weren't enough to secure the victory for Ebbw as the black& ambers stormed to victory with tries from Lennon Greggains, Matt O'Brien, Garin Harris and Matthew Powell x2, a penalty try and 14 points from the boot.
Ebbw discipline was an area of concern again as they lost Dan Hill, Lewis Young and stand in captain Dom Franchi to the bin. Although, Ebbw managed these periods surprisingly well.
Woods commented; "Newport were deserved winners as any Gwent Derby is won or lost up front. We struggled in the set piece and that put us under constant pressure".
Despite defeat Woods remains confident in his team and expressed how impressed he was with the younger members of the squad, particularly the Dragons contingent of allocated academy players. One of whom, Joe Westwood, deservedly made the Welsh Premiership Podcast's 'Team of the Week' on his senior debut.
"I was really pleased with our younger players in Connor Chapman, Joe Westwood, Joe Peard, Ben Moa and Euan Rosser they played superbly. Although a very disappointing defeat the future is looking good with many of these boys making their senior debuts this year".
This week Ebbw welcome Dale McIntosh's Merthyr to Ciner Glass Community Stadium, a side that they beat in round one of the Welsh Premiership Cup.
Woods said; "Although we have a few bumps we need to regroup quick as there is a huge challenge in Merthyr facing us this week. We need to tighten up our set piece and defence and that is what we will be working hard on this week".
Video highlights https://youtu.be/8s0ssY88ClA
As Wales look forward to a return to international rugby and a sold out Principality Stadium for the mighty All Blacks, it's vitally important a safe environment is provided where supporters can enjoy thrilling rugby and focus on having the best stadium experience possible.
In line with Welsh Government legislation, the NHS Covid Pass or proof of negative LFT (lateral flow test) within 48 hours before the game will be an entry requirement for the Autumn Nations Series at Principality Stadium.
This requirement will be managed as part of a visual 'spot-check' on arrival at your designated gate and supporters are strongly advised that failure to supply an NHS Covid Pass or proof of an email or text with a negative lateral flow test result upon request will, unfortunately, result in denied entry into the stadium.
"We cannot stress strongly enough that supporters need to ensure that they arrive at the ground with the necessary NHS Covid Pass or relevant text or email," said Principality Stadium manager Mark Williams.
"We are looking forward to welcoming supporters back to the stadium with open arms, this is a homecoming and an opportunity to finally gather together in celebration of our national sport. Our message to fans is that we are really looking forward to seeing you, but we need you to help us to help you and arrive with evidence that you have met the legal requirements for entry.
"The alternative to the NHS Covid Pass was likely more restrictions which would've had a greater impact on the game day experience. With this, once you present your Pass or proof of negative lateral flow test, the transition into the stadium will be a smooth one and we will be delighted to see you enjoy the rest of your day and all of the joys that a sold-out matchday experience has to offer, safely.
"But, with such a huge crowd, and in order to meet the requirements of law, our stewards will be in no position to problem solve or help supporters on the day who do not have the right proof to enter.
"That's why it is so important to get the message out to everyone ahead of time – if you can't prove you meet legal requirements you will miss the game.
Of course, our full refund policy remains in place for supporters who are prevented from attending by a positive Covid test or associated restrictions, but the fact remains that is you have taken no action prior to matchday, you're highly likely to be refused entry."
In line with Welsh Government legislation, supporters under the age of 18 are exempt from getting an NHS Covid Pass or the requirement to show proof of negative LFT proof of negative LFT.
All food and beverage units across the stadium will be open and supporters will be encouraged to be mindful of others and keep their distance when heading to a bar or food station during half time or before the game; and Principality Stadium Experience will be operating a full hospitality service for the first time in 18 months and the return to full capacity crowds.
The introduction of an NHS Covid Pass or proof of negative LFT, bolsters existing measures put in place for the wellbeing of supporters and staff, which includes:
Digital ticketing – Principality Stadium App (to comply with Track & Trace)
• Completion of health questionnaire (within stadium app)
• Staggered entry – all ticket holders will be given a designated entry time and gate number as issued on their digital ticket. This is to limit queues and crowding.
• For additional protection, face coverings are to be worn upon entry and whilst travelling through the stadium however these can be removed once in your seat
• Supporters can find hand sanitizer spots throughout the Principality stadium
• Enhanced cleaning measures throughout Principality Stadium
LINKS AND INFORMATION
Where can I get my NHS Covid Pass?
To get your NHS Covid Pass please visit: gov.wales/get-your-nhs-covid-pass
The NHS Covid Pass is available in digital or printed format. Please note, if you opt for a paper format this can take between 7 – 10 days to arrive. It's recommended you get the digital pass.
How do I get a paper certificate?
You should only request a paper COVID Pass if:
you have had a full course of the COVID-19 vaccine (you should wait 5 days after your final dose before requesting it)
you are aged 18 or over
you do not have photographic ID
Call 0300 303 5667 to request a COVID Pass if you are unable to use the digital NHS COVID Pass.
It can take up to 10 working days for a certificate to arrive. No requests can be fast tracked and certificates cannot be collected.
You can call 7 days a week between 9am and 5pm.
Where can I get my proof of negative LFT?
To order your LFT test please visit: https://gov.wales/get-rapid-lateral-flow-covid-19-tests-if-you-do-not-have-symptoms
To register your lateral flow test result visit: https://www.gov.uk/report-covid19-result
Please note the testing kit itself will NOT be accepted as proof of a negative result, results must be registered with NHS and it is this proof of registration which is required to be presented.
What if I'm a supporter from outside Wales, and UK?
Individuals from the EU will be able to provide an EU covid certificate or a negative lateral flow test to enter.
Welsh Government are asking people to use the lateral flow test they provide for free using the above link as users will have the barcode to self-report on the system.
All attendees from outside of the EU will need to provide proof of a negative lateral flow test, as per the above
For more information on the Autumn Internationals 2021 and FAQs on the event, please visit: https://faq.principalitystadium.wales/
Ebbw Vale Side To Play Newport 
The Steelmen squad to take on Newport at home this Saturday in the Indigo Group Premiership Cup 14:30pm ko. The steelmen will be looking to bounce back from their narrow defeat against RGC last weekend and get back on track.
Purchase your tickets online here https://www.evrfc.co.uk/product/indigo-cup-saturday-16th-october-newport/
1) Luke Garrett
2) Connor Chapman
3) Rob Sevenoaks
4) Dan Hill
5) Corey Talbot
6) Scott Parsons
7) Alex Grey
8) Lewis Young
9) Matthew Flanagan
10) Lewis K Williams
11) Euan Rosser
12) Ethan Phillips
13) Dom Franchi
14) Dafydd Howells
15) Joe Westwood
16) Joel Harries
17) Mikhail Blake
18) Scott Evans
19) Joe Peard
20) Ben Moa
21) Jack Harvey
22) Ryan Evans
23) Dan Haymond
#FeelTheSteel #CmonEbbw
Ebbw Vale fell to a second successive defeat last weekend losing 17-13 to RGC at Parc Eirias. The Steelmen made the journey to North Wales looking to get back to winning ways having been heavily defeated at home to Cardiff the previous week.
Fly-half Lewis K Williams relaxed Ebbw nerves with two early penalties putting them 6-0 up before RGC fly-half and Dragons academy player Evan Lloyd halved the deficit with a penalty of his own.
RGC snatched the lead just before half-time through another Dragons academy player, Brodie Coghlan. A move at the front of the lineout caught the Ebbw forwards off guard and the young hooker crossed the whitewash. Lloyd converted to make it 10-6 at the halfway point.
In the opening stages of the second-half Ebbw had all the possession but the RGC defence stood strong, scuppering any chances Ebbw created. Finally, Ebbw did regain the lead with a try from —— and penalty from Williams.
RGC responded almost immediately with a converted try of their own as the lead changed hands once more.
The Steelmen attacked and attacked again but couldn't cross the white line again as RGC battled on to claim the victory despite being reduced to 14 men when Pedr Jones was sin binned.
Final Score: RGC 17-13 Ebbw Vale
Head coach Greg Woods commented; "I'm disappointed with the loss as we had loads of territory and possession. We just couldn't convert that into points. Dan Hill (6) / Lewis Young (8) / Dom Franchi (12) – played superbly and put hell of a shift in and it was a much improved performance in terms of physicality and energy from the Cardiff game.
The East Cup is so competitive and tight where anyone can beat anyone. We are pleased with our return so far and the new squad are coming together nicely".
Ebbw Vale return to CiNER Glass Community Stadium Eugene Cross Park for a massive Gwent derby game in the Indigo Group Welsh Premiership Cup on Saturday at 2:30pm.
Game Highlights https://youtu.be/NnMY5tnZc94
Club Captain – Joe Franchi suffers bicep injury in RGC game. Joe Franchi will undergo a bicep operation in the next 2 weeks to fix an injury sustained in the battle up north. "Joe was performing his role as captain and player superbly to start this season and I am gutted for him as he was really on fire. Injuries happen and as soon as the surgery is complete he will continue to lead the side in a different way until he is back on the field".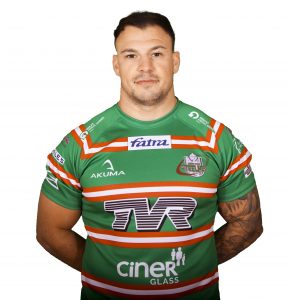 Ebbw Vale Side To Play RGC Away 
The Steelmen squad to take on RGC away this Saturday in the Indigo Group Premiership Cup at Parc Eirias with a 17:30 KO. The steelmen will be looking to bounce back from their defeat against Cardiff last weekend and get back on track.
1. Luke Garrett 
2. Joe Franchi
3. Dave Whitng 
4. Ethan Doyle 
5. Corey Talbot 
6. Dan Hill 
7. Alex Grey 
8. Lewis Young 
9. Che Hope
10. Lewis K Williams
11. Jordan Thomas 
12. Dom Franchi
13. Ryan Evans
14. Dafydd Howells
15. Dan Haymond
16. Connor Chapman
17. Joel Harries 
18. Rob Sevenoaks 
19. Scott Parsons 
20. Ben Moa 
21. Matthew Flanagan
22. Ethan Phillips
23. Ewan Rosser 
TR. Joe Peard 
TR. Mike Powell
After a strong start to their Indigo Group Welsh Premiership Cup campaign, the Steelmen suffered their first defeat of the competition on Saturday afternoon as they were defeated 27-3 by Cardiff RFC at CiNER Glass Community Stadium Eugene Cross Park.
The Blue & Blacks had made a lot of changes following their surprising defeat to Newport last week with Cardiff Rugby professional players Jamie Hill and Dan Fish starting at half-backs.
Hooker Iestyn Harris and Cardiff Rugby academy flanker Gwilym Bradley both crossed twice for the visitors which secured them an attacking bonus point. Fullback Jacob Beetham, another Cardiff Rugby academy member added seven points from the boot.
Head coach Greg Woods said; "We were out played last Saturday by a very physical Cardiff side. They put us under pressure and our mistakes killed us. The mistakes we made came from Cardiff's aggressive line speed and clever kicking game. We struggled to get a foothold in the game and our errors and yellow cards again cost us. We need to regroup for a huge challenge next week in Colwyn Bay. RGC will be another physical encounter and I am looking for a reaction off our players this Saturday in terms of accuracy and physicality".
Ebbw make the long trip to North Wales next weekend where they face winless RGC hoping to bounce back from a disappointing performance in poor conditions this week.
We are delighted to announce the continued support of Zorba Delicacies, Zorba Delicacies are a large local business who have supported the club over the last few seasons. We would like to thank the directors for agreeing to sponsor us once again for the 2021/22 season and their continued support of the towns premier rugby side.
B&L Roofing Wales Ltd
Long term sponsors B&L Roofing have continued their amazing support of Ebbw Vale RFC for the 2021/22 season and we are very grateful of the support they have shown to the club over the years. Thank you Mark for your support once again!
JB Developments 
We are delighted to welcome on board JB Developments as a club sponsor for the 21/22 season. JB Developments is owned by former Ebbw Vale player Jonny Bowen.
JB Developments are a construction company specialising in extension & new builds based in Brecon mid Wales but have recently started and completed projects around the Gwent and Caerphilly areas but undertake most general projects and renovations across South Wales.
After recently completing a little garden makeover for former team mate Lewis Robert's, we had a great catch up about old times and spoke about opportunities to sponsor the club and Lewis for the 21/22 season, so we were delighted to have some availability for the coming season. 
The values and life skills a club like Ebbw vale installs in you will stand me in good player moving forward with business, and the treatment and support I received after a nasty injury back in 2013, will always be remembered, and it's great to give a tiny bit back. Best wishes for the season" 
Jonny Bowen
Give JB Developments a follow on @jbdevelopments2 for business enquiries 
Ebbw Vale RFC would like to welcome Central UK Security Services as a club shirt sponsor for the 2021/22 season, we appreciate the support towards the club in these difficult times and are very grateful for their support.
Central Security have enjoyed increasing success over the last few years and we are delighted to have the opportunity to sponsor Ebbw Vale RFC.
We are happy to see rugby in Wales flourish at all levels. Being able to support our local grassroots team is a proud moment for us. We look forward to cheering on from the sidelines and building an ongoing relationship with Ebbw Vale RFC.
Mel Jones, Group Operations Director
Steelhouse Rock Festival
Ebbw Vale RFC would like to thank Steelhouse Rock Festival for their continued support as a club sponsor for the 2021/22 season. We appreciate the support towards the club in these difficult times.
Steelhouse Festival Directors, Matthew Rhead and Mike Evans say, 'It's with a great deal of excitement and pride to announce that, once again, The Steelhouse Festival is part of EVRFC's sponsorship portfolio this season. Having both grown up in Ebbw Vale we are fully aware of the club's rich history and understand how important it is to the community. The Steelhouse Festival itself has its roots firmly planted in the clubhouse having grown out of the live shows we originally put on in there…Quite simply, for us, having the Steelhouse logo on the jersey isn't just an advertising opportunity, it's a badge of honour.
#feelthesteel
Taking place at its unique mountain top location, looking out over the South Wales valleys from Hafod-Y-Dafal Farm just outside of Ebbw Vale, The Steelhouse Festival has built up a truly international following and a real heritage of over the course of 11 years. Legendary and contemporary rock icons including Thin Lizzy, Glenn Hughes, Myles Kennedy, Black Star Riders, The Wildhearts, Thunder, The Darkness, UFO, Uriah Heep, Europe, Rival Sons, Saxon, Dee Snider, Michael Schenker, Skindred and many more have made memorable appearances, whilst audience members have been welcomed from as far and wide as Australia, Japan and the USA. With a first-class production, locally-sourced vendors offering a wide range of food and award-winning beverages, on-site camping and glamping options, the Steelhouse Festival is now a staple of the European Summer Festival circuit and a Visit Wales, Major Events Unit-endorsed enterprise.