Ebbw travel to old rivals Pontypridd on April 23, as the Steelmen look to get back to winning ways after a frustrating defeat at home to Carmarthen a fortnight ago. Ponty will also be looking to do similar after falling foul of a 40-10 rout up at RGC. 
Ponty currently sit seventh, 13 points above Ebbw in ninth, but the scores are tied at one a piece this season, both sides winning at home, Ebbw's result coming back in September in the Indigo Group Cup match. 
Since that day Ebbw have been up and down with results, Ponty's 31-3 victory at Sardis Road a display of how a score can not always reflect the performance. 
Despite this being the final away trip of the season for Ebbw, there has been plenty of movement off the field and supporters will be pleased to hear Jason has accumulated a squad that he is now happy with and is working through the final few areas to ensure maximum success next season.
"That's a brilliant place to play rugby, there's always a nice atmosphere there. There's lots of history and those two remaining games can build on our performances, but I'd like us to sustain a high performance over a longer period," explained Jason.
"Because our starting point was so low, it was always going to take time and we were realistic and knew it wouldn't be turned around in three months, the club was in too much of a mess to do that. What I keep telling the players, if we think of where we were three months ago getting 50 points against Newport, it was almost unopposed. We're now competing with the likes of Aberavon, Llandovery, Carmarthen today," he added.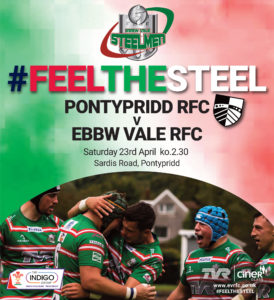 LATEST NEWS
Match Report Aberavon 24 Ebbw Vale 13
Ebbw Suffer Away Loss The Steelmen travelled to Aberavon for a midweek game in freezing weather conditions but were unable to come away with any points. The visitors started on […]
Read More