Monthly Archives:
August 2018
After originally seeing service at the 1992 Ebbw Vale Garden Festival, the scoreboard at Eugene Cross Park has retired, much to the relief of Life Member and Scoreboard Operator Alan Morgan, who was the only person capable of coaxing the ageing electronics into life!
The new scoreboard has a clock feature to assist in the Ebbw Addicts' panic as we defend or chase a victory. This improvement owes much to Colin Brennan and Alan Morgan who collected donations and sourced and arranged instalment of the much needed piece of equipment. We are also extremely grateful to the following for the their kind donations
Alan Morgan, Alan Edwards, Roy Lewis, Steve Drake, Jeff Palmer, Jill Lines, Glyn Biston, David Sevenoaks, M & M Medical, Aspect Environmental, Steven George Architects, Comtec Ltd, Steve Young and Colin Brennan.
Everybody at Ebbw Vale Rugby Club was saddened to learn of the death of Doctor Gordon Thomas on Sunday.
Gordon had given over 40 years' service to the club with which he was first involved as Club Doctor in the early 80s. From that moment, he became the most loyal of supporters and managed to overcome his natural historic connection to West Wales to be red, green and white through and through.
 Gordon was, in his day job, one of Wales's leading cardiologists; this was expertise that was of enormous help to all Steelmen supporters, never more so than  at Llandovery in that play-off semi final when Damien's team overcame the home team after 80 heart- stopping minutes.
 Of course, however devoted he was to the Steelmen, we came a poor and appropriate second to his family. The devotion with which Bernice cared for him in his last illness was mirrored by the pride that both of them took in their children and grandchildren.
Gordon has left two principal legacies to our club; the first is that he was instrumental in establishing a medical and physio set up that was and remains the envy of Welsh Rugby. The second is that he has left us Rhys. The award that our medical team won in the summer is both directly and indirectly the responsibility of Gordon.
In a week that has seen the loss of two of Ebbw Vale's shining stars, our overriding emotion is one of pride that Gomer and Gordon were Ebbw Vale men, and gratitude for all that they have done for us.
Our thoughts are with both their families.
Mark Powell QC
President
Funeral arrangements
Tuesday 11th September
1.30 at Gwent Cremarorium, followed by Thanksgiving at St Mary's Priory, Abergavenny, at 3.00.
Ian James, Club Secretary, writes:
Vicky Sturdy (nee Porter/Williams)
"It was a huge personal and collective shock to hear of the sudden and unexpected passing of Vicky last week (21/08/18).
Vicky was an active supporter of EVRFC from an early age, following her father Cyril Porter to matches and getting involved wherever needed. Having studied teaching in Caerleon she moved back to Ebbw Vale in the early 90s and got her dream job at Pontygof School. She combined this with caring for her two young children, Stacey and Luke, as well as ensuring EVRFC got through some tricky times with her unending energy, enthusiasm and determination. Edwina Sibthorp recalls when Malcolm was playing how she, Vicky, Isabel and others would work in the kitchen, with Errol, to ensure all players were fuelled up after a match, at other times painting, cleaning kit, or whatever was required.
Later, on meeting Paul, they formed a great partnership and gave further hours to the club whilst being blessed with Alex and Rhian, their precious twin daughters. Vicky and the girls were heartbroken when Paul passed away unexpectedly last year but Vicky did an amazing job in keeping the family together, remembering Paul and returning to work as one of our community's most loved and respected teachers.
It's impossible to understand how Alex and Rhian are feeling at this time but through their elder siblings Stacey, Luke and Scott they have the best support.
As part of the EVRFC family, our love and support goes out to her children,  to Stephen (her brother) and Cyril as well as all the children lucky enough to pass through Vicky's classes, and all her colleagues and friends. Vicky touched a lot of our hearts very deeply and will be forever missed."
Ian James
We were deeply sorry to learn that one of our greatest players, Graham Evans, known as Gomer, passed away on Friday morning. In the 1970s, he was a backrow forward of exceptional ability, who played many times for us and also for Gwent v the All Blacks in 1972.
Club Historian Roy Lewis said, "Gomer was the nicest of men. Everyone who knew him, played with him or saw him play will be very sad to hear of his death."
Our deepest condolence go to his nearest and dearest.
Funeral arrangements
Monday 10 September at 1130, Wesleyan Methodist Church, Nantyglo followed by interment ar Brynmawr Cemetery.
Ashley Sweet is the first of the injured trio to find his way back on to the field with Ebbw Vale and he is working towards selection for the opening league game. Hoping to join him in the selection mix for the initial league games are back row favourites, Cameron Reagan and Rhys Clark who is well ahead of his initial recovery schedule.
With that good news comes the bad news that utility back Dai Langdon will undergo a shoulder operation that will rule him out for 3 to 4 months of the season. The club has acted swiftly to that news and has been able to tempt back former Steelman Carl Meyer following his departure from the Dragons. Carl was out injured for most of last season but has worked his way back to fitness and will be gaining much needed game time to prove his fitness and regain a professional contract as soon as possible. Carl has trained with the squad and is looking forward to being in Steelmen colours at Nantyglo on Saturday when the final pre season game with Chinnor takes place.
The Steelmen will once again be looking for mascots to lead them onto the field this season.
Those selected will receive a mascot hoodie, beanie, signed programme and picture with their favourite player.
To nominate a child to be a mascot can you email ebbwaddicts@yahoo.com with your name and contact details as well as the child you are nominating.
You may have heard a whisper that we've got a special Steelmen & Ambala Curry Night lined up for all those who care about our great club and fantastic curry.
Thanks to the amazing generosity of Syed Ali and family at The Ambala, Waunlwyd (ex-Park Hotel) we have an exclusive evening arranged, on Wednesday September 5th, where Ali will put on his famous buffet for us and all proceeds will come to EVRFC. (That's every pound, not profit)
We need at least 50 of us to make this a night to remember and the price we're setting is at just £15/person (full buffet).
As this is a few days before BBC show their first televised Premiership game of their new deal, which is of course from Eugene Cross Park, we may get one or two BBC people in for a bit of background footage….so the more replica jerseys the better, but be careful the stains are a pain to get out.
Greg Woods (Head Coach), Ronny Kynes (Captain) and Rhys Jones (No.10) will be in attendance, as we hope many other players will, and are looking forward to meeting you all there. If we get over 50 people Darren Venn (Team Management) will take the Phal challenge, Darren usually breaks sweat looking at a popadom so this is a great incentive to get a friend along.
It's a great chance for us all to mingle and review our first game away at Llanelli (Greg and the boys will take questions) and look forward to our first home game of the season.
We're looking for a 7pm start, but join us from 6pm for a drink first.
To book your place email Ian James (email below), contact an Ebbw Addict, tweet us, Facebook, or phone a friend.
Thanks again to Ali and the Ambala and we all look forward to seeing you there.
Ian
Ian James (Club Secretary)
e. clubsecretary@evrfc.co.uk
t. @evrfc
fb. EVRFC / Ebbw Addicts
After  last week's victory at Brixham, the Steelmen travel to Bedford this Saturday to take on Ampthill RFC.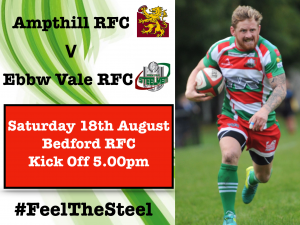 It is free entry for the Ampthill RFC V Ebbw Vale game, which follows Bedford's game with Saracens, which kicks off at 3.00pm. Prices for that match are:
Admission with discount:  Ground £12.   Stand £16 (needs to be purchased online at www.bedfordrugby.co.uk)
Pay on gate:                          Ground £16.   Stand £20
Unveiling the new season's Steelmen kits, Chairman Jon Jones said, "Ebbw Vale RFC are delighted to continue their partnership with UK based kit manufacturer Akuma and I'm sure the supporters will enjoy wearing the new design kit in what will be an exciting season. The change kit for 2018/19 is an exact replica of the Ebbw Fawr Learning Community 1st team kit, and continues the club's support of its local school."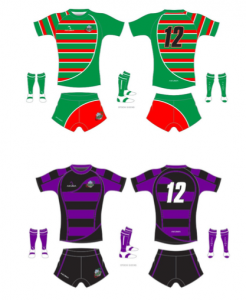 Any supporters interested in watching the Bedford v Saracens match that kicks off at 3pm on the same day and ground where we will play Ampthill at 5pm, should contact Andrew Phillips ASAP on 07766490358 or ebbwaddicts@yahoo.com.
Friday's friendly fixture at Newton Abbot RFC has had to be cancelled. Squad manager Darren Venn said, "Newton Abbot's ground doesn't have floodlights, so the game would have had to kick off at 7pm at the very latest. This wasn't possible from our end, because a lot of our players couldn't finish work early enough to travel down in time."
Ebbw's game at Brixham on Saturday afternoon will go ahead, kicking off at 2:30pm.
BBC Cymru, S4C and the WRU have agreed on their schedule of televised Premiership matches up until the start of January. Ebbw Vale feature more than any other club, with six games to be shown live, 4 of them at Eugene Cross park.
The BBC games will take place on Friday evenings (ko times to be confirmed) except for those on Boxing Day and New Year's Day, while S4C's games will be on Saturdays (ko times to be confirmed).The full list is shown below but, because we only really want to know about ourselves, here is a list of matches featuring the Steelmen:
Fri Sep 7th Ebbw Vale v Aberavon (BBC ko tbc)
Sat Oct 13th Ebbw Vale v Cross Keys (S4C ko tbc)
Sat Oct 20th Pontypridd v Ebbw Vale (S4C ko tbc)
Fri Oct 26th Ebbw Vale v Merthyr (BBC ko tbc)
Fri Nov 23rd Ebbw Vale v Carmarthen (BBC ko tbc)
Full list