Category Archives:
Ebbw Vale Rugby
It was just over a year ago that Patrick Harrington QC was involved in a road traffic accident that left him seriously ill. This week, his friend and fellow legal professional, our President Mark Powell QC reports meeting Patrick who is now back at work following what may be termed a miraculous recovery. He is looking forward to returning to Eugene Cross Park to watch the Steelmen in action (as are we all!) and told Mark he'd been entertaining himself over the weekend by reading the REL archive.
Naturally, everyone at the club is delighted to learn of Patrick's return to health, and we send best wishes to him and his family.
The club has 15 bobble hats left to purchase on a first come first served basis.
These will be priced at £16 and to order your bobble hat please email marketing@evrfc.co.uk Payment will be by BACS transfer and details of the club's account will be supplied to you when you place your order.
Due to the current pandemic the club will only be posting these out, when ordering your mask please provide your address and also postage will be an additional cost on top of the bobble hat price. Postage is £1.50 *depending on how many hats are bought, and is the only delivery option under current circumstances.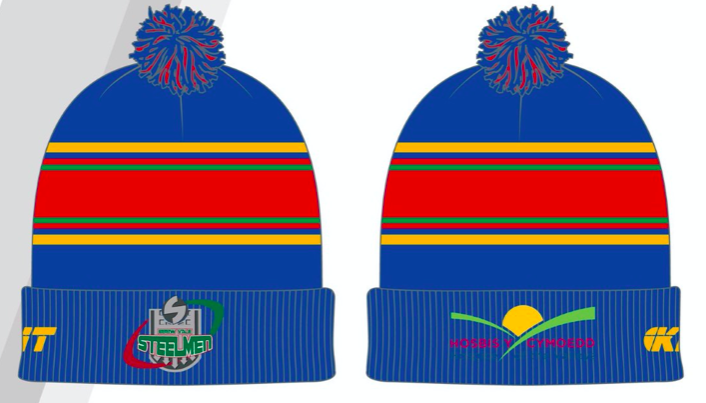 Best wishes to everyone from all at Ebbw Vale RFC.
Blwyddyn newydd dda i chi gyd.
We were very sorry to hear that Mel Williams, father of former Steelman Gareth 'Denver' Williams, passed away this week. We send our deepest sympathies to all the family.
Bobble hats will be available for collection from Gareth at the clubhouse car park on Wednesday 9th December between 2pm-5pm for those who had pre ordered them.
If you need to get in contact please email marketing@evrfc.co.uk
For those who chose to have them posted out, they will be sent this week.
The theme of the event is festive get together over a pint and mince pie ( xmas jumpers optional)
Players taking part include
Shaun Connor
Wes Cunliffe
Nick Wakley
Damien Hudd
Dai Llewellyn
Joe Franchi
Lewis Young
Jonathan Jones
ZOOM
Ebbw Vale supporters can still purchase our reusable branded face coverings so you can stay safe.
Following on from a high uptake on the first order we have had a number of further requests from fans for the new VX-3 Ebbw Vale RFC face coverings, priced at £6 each.
The face covers are available in adult and juniors sizes and are washable, reusable, provide a large covering and are triple layer in line with World Health Organisation (WHO) guidelines for non medical masks.
The latest advice from the Welsh Government, based on updated guidance from the WHO, is to wear face coverings in situations where social distancing is not possible, such as on public transport. For more information from the Welsh Government click https://gov.wales/3-layer-face-coverings-recommended-not-mandatory-certain-situations-wales
The Ebbw Vale RFC face coverings will take around 3-4 weeks turn around, if you require postage you will need to say so in the email, provide address and also postage will be an additional cost on top of the mask price. Postage is £1.50, and is the only delivery option under current circumstances.
Please note: All of our face coverings are for personal use. They are not suitable for hospital / medical use and therefore do not take away from NHS supplies. They are NOT medical grade masks or personal protective equipment (PPE). For more information please click https://www.gov.uk/coronavirus
To order and purchase your Ebbw Vale RFC Face Covering email marketing@evrfc.co.uk by Monday 7th December
Further to the club's charity partnership with Hospice of the Valleys we are excited to launch our away strip for the 20/21 season. The jersey includes the club and Hospice colours, as well as incorporating an outline map of the Blaenau Gwent Borough, the area the club and charity are passionate about.
The shirt is for sale via the club shop for Christmas along with a number of other new items of team merchandise.
Order yours now and support the club and hospice.
It is with great sadness that we have heard of the death of Ralph Tansill. Ralph played in the centre for Ebbw Vale in the 1960s, and was a stalwart of the Athletic XV, forming a powerful midfield partnership with Terry Cameron. After his playing days, he continued to contribute to the club as a hard working committee member, including a season as Match Secretary, a demanding role at a time when there were 50 matches in a season.

Ralph was held in the highest regard by all who had the pleasure of knowing him, and we send our heartfelt sympathies to Wendy and his family.
I trust that you are safe and well in these strange and difficult times. This is is the time of the year when we would all normally be excited at seeing the first few league games of a new season, watching old favourites and potential new Steelmen stars. I know that all the Officers and Coaches are excited at the potential of the squad that was assembled early this summer and were looking forward to seeing an exciting brand of rugby that would return The Steelmen to the top end of the Premiership after a tough relegation battle last year.
The club continues to manage its ongoing expenses in a careful manner and we thank you all for your continued support and commitment.
As we are already 6 weeks into a normal season, and with a start of rugby remaining uncertain, we are asking all our valued members who utilise the Standing Order method as a means of paying for their Season Ticket to consider how they would like to manage their Standing Orders. The club are suggesting that you take one of 2 options:
– Cancelling the Standing Order until it becomes clear what the new season will look like and when it will start.
– Continue to make the payments which will become a donation and save the club VAT on the amount. This would still result in the member being issued with a Season Ticket in the normal manner.
We would be grateful if you could reply to marketing@evrfc.co.uk
Jon Jones
Chairman Ebbw Vale RFC