Category Archives:
Ebbw Vale Rugby
January Squad News
The club is pleased to confirm the following signings:
Wing Mike Powell, who has spent the last 5 seasons at Bridgend RFC and prior to that played Premiership rugby at Aberavon RFC has made the transfer to Ebbw Vale RFC following a move to live in the area in the summer. As supporters have already seen, Mike brings with him a solid defensive game and pace.
Joining Mike is fellow winger Aaron Grabham who has completed a move from Llanelli RFC. Aaron scored for Llanelli against the Steelmen earlier in the season and has been a regular try scorer for previous clubs Aberavon, Neath and Bridgend, and adds undoubted pace in attack and defence.
A third back joining the club, having seen service at Bridgend and briefly at Pontypridd, is Ryan Evans. Ryan's preferred position is outside centre but, as supporters have already seen, he has the skills and experience to feature at full back and outside half.
The final back to join the club is Rhys Jones whose transfer was completed in the last 24 hours from Merthyr RFC, in probably the worst kept secret in Steelmen Rugby history. Rhys's short stay at Merthyr was a successful one but he was delighted to be offered the opportunity to return to a club that means a lot to him and his family. Welcome home Rhys!
The forwards have been strengthened by the signing from Bristol club Old Redcliffians of second row forward Corey Talbot. Standing at 6ft 9" and around 20st, and a product of the highly rated Clifton College rugby programme where he came under the influence of current RGC coach Saul Nelson, Corey has added lineout prowess and power to an already strong pack.
The club has one remaining squad place and are still looking at potential players to fill it.
Injury Update
One of the major reasons that has led to the Steelmen battling at the wrong end of the Premiership table ithe high level of injuries sustained to key players. The club has yet to see the team named on a Thursday take the field on a Saturday, and this has had an unsettling affect on performances.
The current situation is as follows…
Paul King sustained a thumb injury in Saturday's game v Pontypridd.He has undergone an operation and will be unavailable for 6 to 8 weeks.
Rhys Francis, who has delivered a consistently high level of performance whether as a hooker or in the back row, suffered a dislocated shoulder in the drawn game at Llandovery and will undergo an operation in the next few weeks. This will rule him out for the rest of this season.
Dai Langdon is awaiting a scan on the knee injury sustained in the Llandovery game with fingers crossed that it is not a knee ligament injury.
Scrum half Sam Ireland is a few weeks away from a return after a concussion sustained in the Cardiff cup game followed by a groin injury.
Long time supporters' favourite Cameron Regan is having a wrist operation in the next week or so and faces 10 to 12 weeks on the sidelines.
Hooker Joe Franchi is looking for a return to the team following the hamstring tear he sustained in the defeat by Swansea.
Recent signing Lewis Williams has sustained a groin injury which is proving troublesome to recover from, but he hopes to return to action in the next few weeks.
Back row forward Owen Young is on schedule to return in mid February following the knee ligament injury sustained in the Cardiff game in November.
The coaches, players and management of Ebbw Vale RFC would like to congratulate our young Dragons Will Griffiths, Aneurin Owen and Ewan Rosser on their selection for Wales Under 20 squad for the forthcoming Six Nations Championship.
"The club has learned of the serious road traffic accident involving Patrick Harrington.
He is seriously ill in Hospital and I, and all his many friends in Ebbw Vale, together with all in the Rugby Club which he has served with such distinction for so many years, are hoping and praying for a good recovery.
Our thoughts are with Sue, Rebecca and Fergus and their families at this difficult time.
Some may not know that Patrick played a considerable role alongside the Russell family during the glory years of professional rugby."
Mark Powell QC
President
Ebbw Vale RFC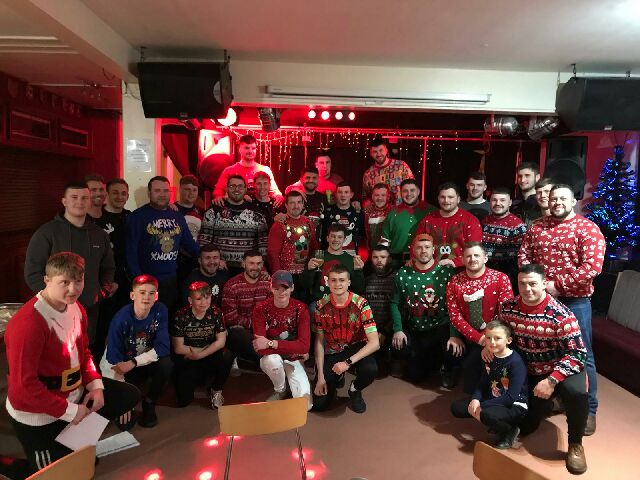 We wish all our supporters, sponsors, junior players and club members a merry christmas. Your ongoing support going into the 2nd half of the season will mean so much to us as we all take on the challenge of this premiership season. We look forward to seeing you all at EXP for the Merthyr game. Have a great Christmas and here's to a positive 2020."
Greg Woods,
Head Coach
There's been a change to the fixture details for Llanell, away. It will now take place on Friday, April 17th at Parc y Scarlets. Llanelli have to play a cup match on the original daye of January 31st.
Head Coach Greg Woods has invited supporters, age group officials and parents to join the players and coaching staff for a Christmas Social in the clubhouse after training this Thursday (about 8pm). The event proved very popular last year,and the format will be the same this time:
– everyone must wear a Christmas jumper;
– players and staff to bring their own food for the Christmas feast;
– a tin of food to be donated by everyone attending for a local charity; and,
– players and supporters to form a joint Christmas carol singing choir.
See you all there!
Skipper Ashley Sweet runs out for his 200th appearance for Ebbw when they take on Bridgend this afternoon (14/12/19).
Ashley joined the club from Cardiff in the summer of 2010, when Ebbw faced their first season in Division One East, forming what would go on to become the best second row pairing in the Premiership with Damien Hudd. He has been with the Steelmen ever since, apart from a year as a professional player with the Dragons.
Congratulations to Ashley on a fantastic achievement!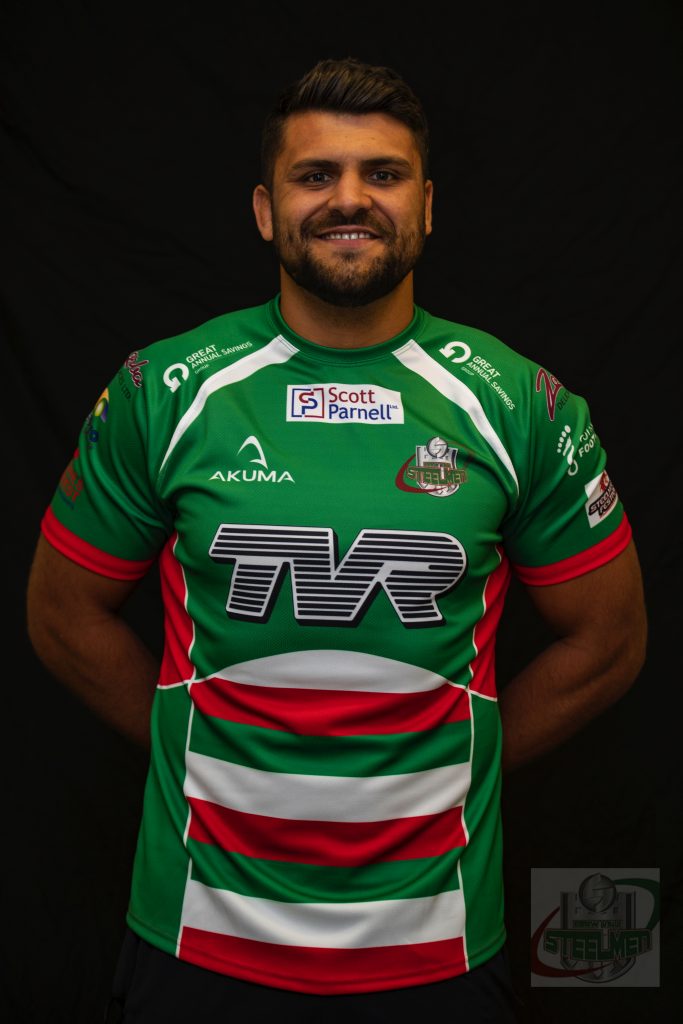 Squad Update
The club is pleased to announce the arrival of two new players. Prop Dave Whiting has actually already made two impressive appearances from the bench, having signed from Worcester RFC after spending the last few years playing rugby at the top club level in Australia. The 25-year-old is a tight head by preference but is equally adept on the loose head of the scrum and is an imposing figure at 6ft 1" and 130kgs. He is also highly mobile with impressive handling skills and is Wales qualified via his grandfather.
He is joined at the Steelmen by highly experienced outside half Lewis K Williams who has represented Pontypridd, Bridgend and Llanelli in the Premiership. Lewis is best known for his time with Pontypridd where he played 92 games and has been a consistent points scorer and game controller. As befits a player of this pedigree, he possesses a big kicking game and is able to bring fluidity to the back line.
Sadly, two players are leaving the Steelmen due to changing work commitments. Craig Fillier and Carl 'the Beast" Sully worked hard throughout preseason and impressed coaches and spectators with great attitudes and skills. Craig will combine running a new gym with turning out for Blaina RFC, and Carl will play his rugby at Pill Harriers once he recovers from a shoulder injury. We wish both players well for the future.
Suspension
Rob Sevenoaks received a three week ban for his red card at Cardiff in the Cup Game at the Arms Park and will be  available to play on December 14th.
Injury Update
There is a lengthy injury list at the moment and here is the latest picture as of Thursday, 28th November:
Sam Ireland – concussion – return to play scheduled for December 7th
Cameron Regan – wrist injury – return to play in 2 to 4 weeks
Luke Garrett – heel injury – return to play in 2 to 4 weeks
Craig Duncan – ankle ligaments – 4 weeks
Ellis Evans – hand injury – 8 weeks
Dai Jones – hand injury – 2 to 4 weeks
Joel Harries – pectoral muscle injury – working hard towards a February return
Owen Young – knee injury – 12 weeks
Our home game with Bridgend will take place on Saturday, 14/12/19 at 2:30pm, which was the date originally scheduled. BBC Wales were going to feature it live on 13/12/19 but those plans have changed.
Anyone who's recently enjoyed a matchday burger, hot dog or cuppa will be delighted with the following news. The Scruminicious Burger Bar, housed in the refurbished building between the clubhouse and the stand, will be open from next Monday, 7 days a week, 8am til 3pm. Call in for a snack or a drink and support the club!