Category Archives:
Ebbw Vale Rugby
Ebbw Vale RFC can confirm that our Indigo Welsh Premiership fixture against Llanelli RFC on Saturday 15th of January at the CiNER Glass Community stadium Eugene Cross Park has been postponed.
The decision has been made following the changing landscape of the public health situation relating to the Omicron variant of Corona Virus, and the Welsh Government decision to force all sporting events in Wales to be played behind closed doors,
Squad Update Arrivals and Departures
The hugely popular Ross Jones has answered the call to arms and having decided to come out of retirement, Ross was about to sign at Pontypool but did an about turn back up the valley to Eugene Cross Park following a short discussion with Jason and Chairman Jon Jones. 
Ross has always added a great amount of value off the pitch, leading by example in training and always being available to young front row forwards as a mentor. He is guaranteed a big welcome back from the Ebbw Addicts
23 year old Back row forward Alex Howe has arrived from Abergavenny via a vert short stay at Cross Keys RFC and brings with him a very powerful carrying and tackling game
21 year old Hooker Harry Bee has joined the club from Blaenavon RFC after impressing the coaches in training, another who brings a powerful carrying game into the squad
Centre Ollie Andrews joins from Penallta RFC, another who has impressed the coaches in training with his pace and ball ability. He has previously represented the Dragons Academy and is a student at Swanseas University
The following players have left the club
Outside Half Lewis K Williams has taken a step back from rugby to try and resolve a recurring back issue which has affected his ability to work. Lewis endeared himself to the Ebbw Addicts with a superb display at Merthyr in the first game of the season which was capped with a nerveless winning penalty in injury time
Back Row forward Scott Parsons has taken on a new job as the Pelops his career as an engineer which has meant that he is unable to provide the level of commitment that is required to play in the Welsh Premiership
The club would like to thank both Lewis and Scott for their services to the club and hope to see them supporting the Steelmen in the future
Coaching Update 
Jason Strange has confirmed the following additions within his coaching team with the appointment of a highly experienced forward's coach to follow in the next 6 weeks.
Aaron Coundley has been appointed as Scrum Coach and will also occasionally play as required. Aaron made his debut in Senior Rugby from the Dragons Academy in 2009/10 season, played for the Dragons senior team and has had spells with Neath and Pontypool where he has impressed with his ball playing and scrum abilities. This is Aaron's first official coaching role but he also assisted in this area during his time at Pontypool RFC
Aaron will be joined on a part time basis by club legend Matthew "Chunky" Williams who will combine his role as Oakdale Head Coach with working on the scrum and line out. A renowned exponent of Lineout throwing he will use his expertise and understanding of the club following his 280 plus games for the club over 15 seasons that was ended by a shoulder injury.
Back's coach Steve Lang joins from Penallta and having been mentored by Jason over a few seasons will add talent and enthusiasm for a 15 man rugby approach
They will also be joined by Conditioning Coaches Nicky Strange who joins his brother from Brynmawr RFC and after a short hiatus Ed Bruce returns to the club to ensure fitness levels are at the required level to the play the 15 man game that Jason is putting in place
All coaches have been active with the club over the last 5 weeks
Ebbw Vale RFC can confirm that our Indigo Welsh Premiership League fixture against Pontypridd RFC on Monday 3rd of January 2022 at Sardis Road has been postponed.
The decision has been made mutually between both clubs following the changing landscape of the public health situation relating to the Omicron variant of Corona Virus, and the Welsh Government decision to force all sporting events in Wales to be played behind closed doors from 26th December 2021.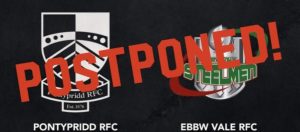 Due to the uncertainty around the new restrictions the Indigo Welsh Premiership fixture against Newport On December 27th has been postponed. We will update you on when this fixture will be played as soon as we can.
The Club shop will be open tomorrow (Saturday) from 1 til 4 for Christmas stocking fillers
---
Due to a mix of people across the club displaying symptoms of Covid, positive cases at the Wales U20's training camp. The club has taken medical advice and have reluctantly taken the decision to postpone tomorrows fixture against Llandovery
Ebbw Vale Side To Play Llandovery
Your Steelmen squad to take on Llandovery this Saturday in the Indigo Welsh Premiership, our last home game before the Christmas break.
We are calling on the Ebbw Addicts to come down to the CiNER Glass community stadium in your Christmas jumpers and shout on the boys as our 16th Man from the bank! 
We are asking supporters and visiting supporters to buy your tickets online in advance, you can buy them here https://www.evrfc.co.uk/product/indigo-welsh-premiership-saturday-18th-december/
1 Arron Coundley
2 Connor Chapman
3 Rob Sevenoaks
4 Ethan Doyle
5 Cory Talbot
6 Alex Howes
7 Dawid Rubasniak
8 Lewis Young
9 Jonathan Evans (c)
10 Evan Lloyd
11 Dafydd Howells
12 Ethan Phillips
13 Joe Westwood
14 Ewan Rosser
15 Dan Haymond
Substitues
16 Harri Bee
17 Ross Jones
18 Adam Williams
19 Frankie Suto
20 Owen Young
21 Matthew Flanagan
22 Rhys Jones
23 Ryan Evans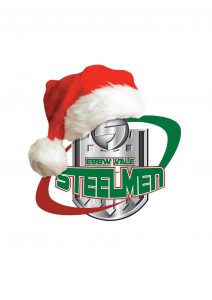 Ebbw kickstarted their Indigo Group Premiership season off with a disappointing result away to Merthyr. Despite a 31-13 score line in favour of the Ironmen, Ebbw left with a decent performance to get Jason Strange's second period in charge f the club underway.
The Steelmen got the scoreboard underway when Evan Lloyd kicked the first of his penalties, only to see Sam Jones of Merthyr cross the whitewash to give the host the lead. Lloyd soon grabbed another penalty to get the visitors within a point, only top be pinned back by a try from Merthyr skipper Craig Locke. Merthyr would add another penalty before the break. 
Daf Howells got Ebbw's first try with a neat little play inside Merthyr's 22, but that was to be the last of Ebbw's ventures over the whitewash. Tries from Tom Daley and our old nemesis 'penalty try' widened the gap to a rather flattering score line, despite a deserved result for Merthyr. 
Ebbw will now face their first east vs west clash when Llandovery travel to town this Saturday, so make sure to pack the bank at the CiNER Glass Stadium and make the Drovers #FEELTHESTEEL!!!
Ebbw Vale Side To Play Merthyr Away
Your Steelmen squad to take on Merthyr this Saturday in the opening fixture of the Indigo Welsh Premiership at the Wern 14:30 ko. It is Jason's first game in charge and we are calling on the Ebbw Addicts to come and shout on the boys as our 16th Man!
Don't forget it's Christmas Jumper Day & Santa's Hat or Santa Suit Saturday 🎅 Have you got yours ready?
1 Arron Coundley
2 Mikhail Blake
3 Rob Sevenoaks
4 Joe Peard
5 Dan Hill
6 Alex Grey 
7 Owen Young
8 Lewis Young
9 Jonathan Evans (c)
10 Evan Lloyd
11 Jordan Thomas
12 Ethan Phillips
13 Joe Westwood 
14 Mike Powell
15 Dafydd Howells
Substitues 
16 Connor Chapman
17 Adam Williams
18 Luke Kinsella
19 Ethan Doyle
20 Ben Moa
21 Matthew Flanagan
22 Dan Haymond
23 Ewan Rosser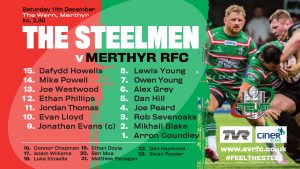 We have received notification today from kit partners akuma that all orders that have been placed recently will be posted out by December 23rd. Due to production times we cannot take anymore orders now in time for Christmas delivery.
Thanks
Ebbw return to Indigo Group Premiership action with a trip to local rivals Merthyr. It'll be a return of a new dawn for the Steelmen as Jason Strange re-takes control of the reigns at the CiNER Glass Community Stadium.
Jason will be hoping his side can repeat their fortunes of the last trip to The Wern and walk away with a victory to end an eight-game losing streak.
Having had a fortnight off, Ebbw have rested some weary bodies ahead of the vital clash in a shortened Premiership season. There will be no relegation and you'll play every team home or away.
Merthyr battled strongly in the Cup, finishing a sturdy third. Both fixtures between the Ironmen and Steelmen have been closely fought ones, and it is expected that the decider will be the same. 
Merthyr beating Ebbw 20-16 away, following Ebbw's last minute 26-24 triumph to kickstart their campaign back in September.
It is hoped that the rest period may help the likes of Corey Talbot, Lewis K Williams and Dafydd Howells get back to fitness and create some depth once again.
A quick reminder to supporters that it is a Christmas jumper game, but make sure to get plenty of red, green and white over the valley to get the boys back on track and ensure that Merthyr
#FEELTHESTEEL #STEELMEN
Jason Strange has returned to Ebbw Vale RFC as Head Coach and met the squad at the club last night where he laid out his plans for the squad in the coming league season.  He will combine this role with his work at St Helens Rugby League Club and in no stranger to combining high profile roles having successfully done this in the past with Wales U20's and Ebbw Vale RFC
He is in the process of completing his coaching group and is confident that this will be in place by the end of the weekend and will bring a mixture of experience and ambition
Chairman Jon Jones made the following comment
Having initially approached Jason for advice on the search for a new coaching group it became clear that Jason wanted to return to the club, that was the quickest and simplest decision I have ever made in rugby. He is a top quality coach and person who I have a lot of history with and  a great working relationship. He understands the club, the community and has a clear idea how to improve team performance and the club overall. His track record at Ebbw Vale, Wales U20's and St Helens speak for themselves and I am looking forward to working with him again.  I would also like to take the opportunity to thank St Helen's Rugby League Club for allowing Jason the space to make both roles manageable
Jason had the following to say
I'm really looking forward to going back to the club and I'm positive with the right individuals involved we can replicate past successes and make supporters proud again. The club has been very good to me over many years as a player and coaching if I can give up some of my time and help in a small way then that is fantastic.It will mean a fair amount of commuting for myself between St Helens rugby league but it is helpful that the Super League season doesn't start until Mid February and runs through the summer months
There are some outstanding people like Chairman Jon Jones still involved at the club who make it what it is. The club and people involved have got similar values to myself and that is extremely important to me. I've been really fortunate in my career to have been in some very successful teams as a player and a coach and also to be in some horrific ones. The good thing is you stand back and learn why was that team successful and why a team was not very good.
The first priority for me is to get everyone going in the same direction towards a shared vision which will not only be about rugby success but also about the community and making a difference in the area. The club has always been a very important part of the community and hopefully it will once again again make a lot of people very happy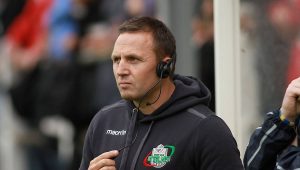 Ebbw Vale RFC Announce Changes
It is with regret that Chairman Jon Jones is announcing immediate changes at Ebbw Vale RFC
This decision is a mutual decision between the club and Head Coach Greg Woods will see the departure of Greg and his coaching group of, Lewis Roberts, Gethin Robinson, Ed Bruce and Team Manager Darren Venn
Greg and his team felt that following a run of 8 games without victory they could not carry on and this decision was accepted by Chairman Jon Jones
Jon commented
The club holds high regard for Greg and his team and in a clear display of honesty and integrity they have tendered their resignations to allow the club to build a new coaching group for the coming league season and the return of relegation next season. Greg has endeared himself to the Ebbw Addicts with his openness, understanding of the importance of the club to the community, will to win and pride at being coach of the club delivering some memorable victories, a run to the Semi-finals of the cup and strong finishes in the league. The group also worked tirelessly and without complaint as they dealt with the loss of players and then the onset of Covid and for all of this the club will always be grateful. All will always be welcome at the club and we wish them success in what they choose to do next
Greg Commented
I am fully aware that the recent run of results haven't been good enough and to date we have had a disappointing season. I would like to thank everyone at the club and there are too many to mention personally for welcoming me and my family and for all the support over the years. I would just like to wish the players, staff, supporters, Jon and the committee all the best in the future
The club officials are working hard to put in place a new coaching regime and will make announcements as soon as they are able
Ebbw's disappointing start to the season continued as they stooped a 48-10 defeat at the Newport Stadium to table toppers Newport.
It was close early doors, Newport showing their presence up front before Will Griffiths drove over inside two minutes. The wind proving too much for the conversion, and it never eased throughout 80 minutes! 
Ebbw soon battled back, despite missing an early shot at goal, Joe Westwood running it out of Ebbw's half and Euan Rosser with a cracking solo effort to finish in the corner in front of the 'Ebbw Addicts'.
The windy conditions and the Steelmen weren't good friends and Newport's kicking game pinned back the visitors. Ebbw's yellow card adding a penalty try before Lewis Smout rounded off the half. 19-10 to the Black and Ambers.
It was a half to forget for Ebbw as the hosts rallied to amass a further four tries and to send Greg Woods' men to their heaviest defeat of the season. 
The result saw Ebbw concreted to the foot of the table before the Indigo Group Premiership kicks off in a fortnight's time.
Next fixture is against Merthyr in the Indigo Welsh Premiership on December 11th at the Wern 2:30pm
Ebbw Vale Side To Play Newport 
Your Steelmen squad to take on Newport this Saturday at the Newport Stadium 14:30pm kick off in the Indigo Group Premiership Cup.
Pre purchase your tickets here online in advance https://blackandambers.co.uk/tickets 
1) Harry Fry
2) Mikhail Blake
3) Dave Whiting
4) Joe Peard
5) Dan Hill
6) Alex Grey
7) Ben Moa
8) Lewis Young © 
9) Jon Evans
10) Evan Lloyd
11) Euan Rosser
12) Ethan Phillips
13) Joe Westwood
14) Jordan Thomas
15) Dafydd Howells
16) Connor Chapman
17) Rob Sevenoaks
18) Adam Williams
19) Ethan Doyle
20) Owen Young
21) Matthew Flanagan
22) Dan Haymond
23) Carrick McDonough
The Steelmen head to Newport Stadium for their final clash of the Indigo Group Cup match of the season, as they conclude the first half of the 2020-21 season with a Gwent clash. Newport have been historic foes for many years, with the last meeting ending with a convincing 44-17 victory for the visitors.
Ebbw have looked stronger since that day, despite not managing to pick up a win. A gutting last-play try against RGC last Friday costing the Steelmen a first win since Pontypridd back in September.
Expect a tough battle at Newport's new home as the Black and Amber's look to top the eastern division of the cup. 
Having scored 79 points in their last two games, Greg Woods' side will be under no illusion of how difficult an outing it'll be.
The game will be a chance for Ebbw to gain some form before the Indigo Group Premiership begins on December 11, and an opportunity to blow some cobwebs out of the system, as maths now dictate Ebbw will be bottom no matter of Saturday's result. 
The positive news is that the next time we meet Newport – Boxing Day fixture – it'll be televised on S4C, so hopefully that'll add to the exposure of the league, gaining much needed credit for the product.
Make sure to pack out Newport Stadium, not Rodney Parade, and give the boys the backing to ensure Newport will #FEELTHESTEEL!!!
The Welsh Rugby Union will team up with S4C to show 'The Indigo Group Premiership' matches live online every Thursday night throughout the season ahead.
Starting with Swansea's trip to face Aberavon at the Talbot Athletic Ground on Thursday 9th December (7.30pm), a different league game will be shown each week.
All of The Indigo Group Premiership clubs are set to benefit from live coverage at least once in the first seven weekends alone, with the matches to be shown via a new S4C series – Rygbi'r Prem.
The matches will be available online on the S4C Clic player, the S4C Facebook Live page and S4C YouTube page and will also feature on the WRU's own website and WRU Facebook.
There will be 14 rounds of matches to feast on and, in addition to the Thursday night live game, there will be a weekly highlights show shared across the S4C Chwaraeon and WRU social platforms.
Rygbi'r Prem commentary will be provided in Welsh, with an English language option on Clic and You Tube. Several familiar rugby figures will provide analysis throughout the season, with Whisper Cymru will produce S4C's Indigo Premiership coverage.
"We have worked closely with S4C on a new and exciting plan for The Indigo Group Premiership which we hope will bring in new audiences as well as satisfy the existing fan-base for the very best of Welsh club rugby," said WRU community director Geraint John.
"All clubs in The Indigo Group Premiership are set to feature in at least one live match during the season, in a regular slot on Thursday evenings."
"We expect these matches to be watched in clubhouses up and down the country as the competition builds to its exciting crescendo."
"Merthyr remain the holders after lifting the title in 2019, before the pandemic curtailed the season the following year. But we have introduced a brand new trophy and welcomed a new title sponsor since that time, so we are now searching for the first club to lift our new Indigo Group Premiership silverware."
Lauren Jenkins will present Rygbi'r Prem, while Whisper Cymru will produce S4C's Indigo Group Premiership coverage.
Lauren Jenkins said: "The Indigo Group Premiership has it all; quality players and coaches, fierce rivalries and competitive games full of tries. This is the highest level of Welsh club rugby and it's the bedrock of the game in Wales. And S4C will be the only place where you can follow the Premiership, so make sure you join us online every Thursday night."
Sue Butler, S4C Sports Commissioner, said: "This is an exciting new venture and one we hope will attract new viewers to the Welsh club game, as well as providing a window on the league for the regular supporters. We've developed our online sports coverage over the past few years, and our live coverage of rugby and football, as well as hockey and netball matches, has proved popular. It's great to partner with the clubs and the Welsh Rugby Union and to showcase the Premiership."
Live Online matches:
Thursday 9 December Aberavon v Swansea 7.30pm
Thursday 16 December Carmarthen Quins v Llanelli 7.30pm
Sunday 27 December Ebbw Vale v Newport 2.30pm
Sunday 3 January 2022 Llanelli v RGC 1404 5.30pm
Thursday 13 January Bridgend v Pontypridd 7.30pm
Thursday 27 January Cardiff v Ebbw Vale 7.30pm

Ebbw lost out on a third victory this season with a last play try from RGC. Despite [playing 65 minutes with 14 men, the visitors snatched victory from the jaws of defeat with two late scores to win 22-21 and to complete the double over Ebbw.
It was looking good for Ebbw when Joe Peard powered over to give the hosts the lead early doors, the Steelmen going 7-3 to the good.
A yellow to Dan Hill saw RGC capitalise with a try of their own, putting them three points up at the break. Two quick tries from Ebbw saw a 21-10 commanding lead rock up on the scoreboard and all the pressure was on Ceri Jones' side to get back into the game. That they did!
Ebbw denied a chance of three points to go seven ahead, opting for the corner instead, but the attack broke down and RGC eventually went the length of the field and crossed in the corner under a penalty advantage. 
Greg Woods feeling that a missed opportunity was left out there.
"It was in our hands, we're disappointed and we did enough but couldn't get over the line. To lose a game by a point with the last play is always a tough one to swallow. 
"We didn't want to play for the draw, we still had to score to put us two scores clear, I felt it was the right decision at the time to go for the corner, kill some time off the clock and try and get a bonus point. We haven't scored many tries this year so let's roll the dice and do it. We didn't manage the goal line situation very well and it was panic stations from there. 
"The youngsters were great again tonight and stood up for us, the half backs who were a new pairing gave us good direction and shape."
Ebbw go again next week when we take on Gwent rivals Newport at Spytty Stadium – Not Rodney Parade for those who haven't yet heard.
Ebbw Vale Side To Play RGC
Your Steelmen squad to take on RGC this Friday evening at CiNER Glass Community Stadium EXP 7:15pm kick off in the Indigo Group Premiership Cup.
Let's have a big home crowd as you are our 16th man! Shouting on the boys and let's hear that #EbbwEbbwEbbw chant
Purchase your tickets here online https://www.evrfc.co.uk/product/indigo-cup-friday-19th-november-rgc/ 
1) Harry Fry
2) Mikhail Blake
3) Dave Whiting
4) Joe Peard
5) Dan Hill
6) Alex Grey
7) Ben Moa
8) Lewis Young © 
9) Jon Evans
10) Evan Lloyd
11) Euan Rosser
12) Ethan Phillips
13) Joe Westwood
14) Jordan Thomas
15) Ryan Evans
16) Connor Chapman
17) Rob Sevenoaks
18) Adam Williams
19) Ethan Doyle
20) Owen Young
21) Matthew Flanagan
22) Dan Haymond
23) Carrick McDonough
Over the past few months our players have been putting their bodies on the line for the badge. Below is a list of players who are currently sidelined due to injury and the length of their injury.
Short term 1-4 weeks – Mid 4-12 weeks – Long term 12+ weeks
Corey Talbot – short term
Dafydd Howells – short term
Lewis Williams – short term
Dom Franchi – mid term injury
Joel Harries – mid term
Rhys Jones – mid term
Richard Powell – mid term
Scott Parsons – mid term
Lance Randall – mid term
Che Hope – mid term
Lewis Bates – mid term
Paul King – long term
Joe Franchi – long term
Luke Garrett – long term
South vs North
Ebbw will take on northern outfit RGC when the floodlit games return to the CiNER Glass Stadium on Friday (7.15pm KO). Both sides have taken a similar approach to the Indigo Group Premiership Cup, developing lots of young and exciting talent to help their squads along for the forthcoming shortened season.
The sides last clashed in October, RGC taking the spoils 17-13 in front of over 1100 supporters in Colwyn Bay. Ebbw lost their captain Joe Franchi to a bicep tear that evening, and he remains out to this day, but with lots of fresh talent coming through the ranks a lot of pride remains at stake with both sides dwelling at the foot of the table. 
Ebbw hold up the table on 10 points whilst RGC rose to 17 following a good win at home to Newport last weekend. The Steelmen will be looking to put last Friday's disappointing result behind them and hope we see similar progress to that of the first hour of the Cardiff match.
In what'll be the penultimate game of this cup, let's #PackTheBank and get behind the boys for the final home game until the Premiership returns in December.
Head Coach Greg Woods remains positive that Ebbw can still take something from this season and insists Ebbw will target both their remaining games.
"We'll target every game, it [Cardiff] was a lot better performance than at Sardis Road, we've still got plenty to work on, but parts of last Friday we can build on."
You can purchase match tickets here; https://t.co/lg5um4hqf1?amp=1 
Ebbw fell to what was a sixth straight defeat in a row following their 32-7 loss to Cardiff on Friday night. It wasn't all the scoreline seemed, with the Steelmen putting in a hell of a shift for an hour, before collapsing under heavy pressure and a flurry of cards.
It was Ebbw who got the scoring underway when a rolling maul shunted its way over, Ryan Evans adding the extras to give the visitors a 7-0 lead. Evans then missed a chance to make it 10-0 following some more Ebbw pressure. 
Despite mixed conditions and a late Friday night kick-off the crowd was in good spirits, with shouts of 'Ebbw' and 'Cardiff' both appearing throughout the night, it was just the former that rung loudest and longest, sadly the last laugh fell with those in Blue and Black. 
Ebbw's Jordan Thomas was sin binned for a deliberate knock-on right before half time and the sides went in Ebbw winning 7-3.
Jon Evans saw yellow on a debut that had many a positive sign from the former Pro12 winning scrum half and after another Jack Maynard penalty, Iestyn Harris crossed the whitewash to send the host into the lead for the first time.
More yellows would come for Evans and Luke Garrett, as would tries for Cardiff. Ioan Evans, Jacob Beetham and a penalty try garnering up a bonus point. Dan Fish the conductor as the rugby orchestra played.
Despite the scoreline Greg Woods remains positive that Ebbw can turn it around and get some positive results in the remaining 2 games of the cup.
"I was extremely pleased with the intensity we brought, and we rattled them for 60 minutes. Then the sheer pressure leads to yellow cards, high tackles and you won't win games with four yellows. It's an Achilles heel that we need to sort out, but the quality of Dan Fish came on and accelerated the score, but I don't think that score reflects the game," said Woods.
"The scrum struggled, but the lineout and maul were superb, and we really took it too them. I was really pleased with Mikhail Blake and Luke when they came on and built up the scrum, but we lost Corey Talbot again tonight, so we'll need to assess the damage on him and then we go again.
"We'll target every game, it was a lot better performance than at Sardis Road, we've still got plenty to work on, but parts of tonight we can build on."
Remember that RGC is a 7:15pm kick-off next Friday, and we hope to see you all there! #FEELTHESTEEL
Video highlights here https://youtu.be/r7MvEHY_E3c
Ebbw Vale Side To Play Cardiff 
Your Steelmen squad to take on Caridff on Friday evening at Cardiff Arms Park 7:15pm kick off in the Indigo Group Premiership Cup. Jon Evans will make his first start for the club at 9.
Greg Woods said ahead of the fixture, "it's about doing justice to the shirt, we had fantastic support over here [Sardis Road] last weekend. I said the effort must be there, dig in and that shouldn't change. We know Cardiff are a huge challenge and there's no hiding from it.
We are calling all Ebbw supporters, our 16th man to come along and shout on the Steelmen! 
Covid Entry Requirements
A valid Covid Pass or negative lateral flow test will be required to attend the game. Full Covid guidelines can be found on the website:  http://cardiffrfc.com/covid-19-guidelines?fbclid=IwAR2q3p02GCjFgEiDbbNYCBAv5HT54O6w6lzkyQuGzhr9MhEyeA72cHAvSFA
1) Harry Fry
2) Connor Chapman
3) Dave Whiting
4) Joe Peard
5) Corey Talbot
6) Dan Hill
7) Alex Grey
8) Lewis Young
9) Jon Evans
10) Ryan Evans
11) Jordan Thomas
12) Ethan Philips
13) Dafydd Howells (c)
14) Euan Rosser
15) Dan Haymond
16) Luke Garrett
17) Mikhail Blake
18) Scott Evans
19) Ethan Doyle
20) Owen Young
21) Matthew Flanagan
22) Mike Powell
23) Carrick McDonough