Category Archives:
Ebbw Vale Rugby
It is with great sadness that we have heard of the death of Ralph Tansill. Ralph played in the centre for Ebbw Vale in the 1960s, and was a stalwart of the Athletic XV, forming a powerful midfield partnership with Terry Cameron. After his playing days, he continued to contribute to the club as a hard working committee member, including a season as Match Secretary, a demanding role at a time when there were 50 matches in a season.

Ralph was held in the highest regard by all who had the pleasure of knowing him, and we send our heartfelt sympathies to Wendy and his family.
I trust that you are safe and well in these strange and difficult times. This is is the time of the year when we would all normally be excited at seeing the first few league games of a new season, watching old favourites and potential new Steelmen stars. I know that all the Officers and Coaches are excited at the potential of the squad that was assembled early this summer and were looking forward to seeing an exciting brand of rugby that would return The Steelmen to the top end of the Premiership after a tough relegation battle last year.
The club continues to manage its ongoing expenses in a careful manner and we thank you all for your continued support and commitment.
As we are already 6 weeks into a normal season, and with a start of rugby remaining uncertain, we are asking all our valued members who utilise the Standing Order method as a means of paying for their Season Ticket to consider how they would like to manage their Standing Orders. The club are suggesting that you take one of 2 options:
– Cancelling the Standing Order until it becomes clear what the new season will look like and when it will start.
– Continue to make the payments which will become a donation and save the club VAT on the amount. This would still result in the member being issued with a Season Ticket in the normal manner.
We would be grateful if you could reply to marketing@evrfc.co.uk
Jon Jones
Chairman Ebbw Vale RFC
Steelmen Continue Support For Hospice Of The Valleys
"During the initial crisis caused by the Covid 19 Global Pandemic the work of the key workers within the country led by the NHS has been outstanding in exceptionally difficult circumstances.
As a club we came together and decided to support our local Hospice to help their fundraising to provide care for people in great need. We organised a donations page, re run of the 2016 Premiership Final and also branded Ebbw Vale RFC face masks which was a huge success. We would like to thank everyone for their support so far!
The coaches, players and officials at Ebbw Vale RFC had a meeting last week and have decided that we will expand our fundraising for the Hospice and we will be launching a charity old fashioned Bobble Hat incorporating the club and hospice colours. This will be an essential item for the cold winter and also support the hospice and club.
These will be priced at £16 and to order your bobble hat ready for the winter please email marketing@evrfc.co.uk payment will be by BACS transfer and details of the club's account will be supplied to you when you place your order.
"As a club we have partnered with such a worthy charity "Hospice of the Valleys" and so far raised a great amount of funds, but we don't want to stop there. I know that it is a charity that is close to so many people who are associated with the club and the town itself. Hopefully this new initiative with the old school bobble hats will bring increased awareness of the Hospice and funds. As a playing and management group we will be looking to help out as much as we can and I am sure you will agree it is a great choice and worthy cause."
Greg Woods
Ebbw Vale RFC
Head Coach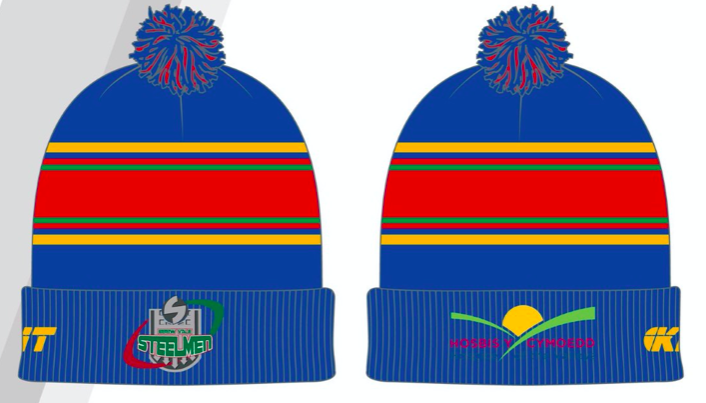 It was with great sadness that the club learnt of the death of former player, Phil Kingsley Jones, in New Zealand where he had lived for many years. Phil, a front row forward in his playing days for Ebbw Vale, Abertillery and Blaina, was the first generation to play for the Steelmen, followed by his son Kingsley and grandsons, Rhys and Dorian with Rhys still maintaining the family playing link with the club.
Phil became widely known for his role as a coach, mentor and manager of the rugby phenomenon that was Jonah Lomu, the first truly global rugby icon. Phil guided his career and ensured that his talent was recognised throughout the world.
Many in the Ebbw Vale area are eternally grateful to Phil for bringing Jonah to Ebbw Vale where he wore the Steelmen colours in a friendly game. Rugby fans old and young queued for autographs from the All Black giant with a smiling Phil by his side, the sense of pride in his protégé only matched by his pride in the area he came from.
As well as his work with Jonah, Phil was widely respected for his 30 years service to Counties Manukua rugby in various roles. His success as a coach led him to coach the Tongan national team and create another Steelmen link with guiding second row Kuli Faletau and full back Josh Taumololo to Ebbw, after a request from his son who was captaining the club at the time. Both played starring roles in the club's success at the time and this action by Phil has also had a major influence on Welsh rugby with Kuli's son Talupe becoming a star player for his adopted homeland. It is expected that several other sons of Tongan imports will make their mark on Welsh rugby in the near future.
Away from the game, Phil became a professional comedian and can only be described as a larger than life character who would fill a room with his presence and ensure a laugh and a smile for all in his company.
Our thoughts are with his wife Verina, daughters Vikki and Rhiannon and stepson James, along with those close to the Steelmen, Kingsley Jnr, Rhys and Dorian.
The Steelmen are delighted to add Wales 7s player Dafydd Smith to the squad for the coming season.
A product of Cardiff Blues Academy, Dafydd impressed on the 7s circuit with his pace, step and ball handling. He is confident of transferring his skill set to the 15-a-side arena. In the 13 shirt, Dafydd will add to the Steelmen's strike power behind the scrum and the coaching group are confident he will become a firm favourite of the Ebbw Addicts.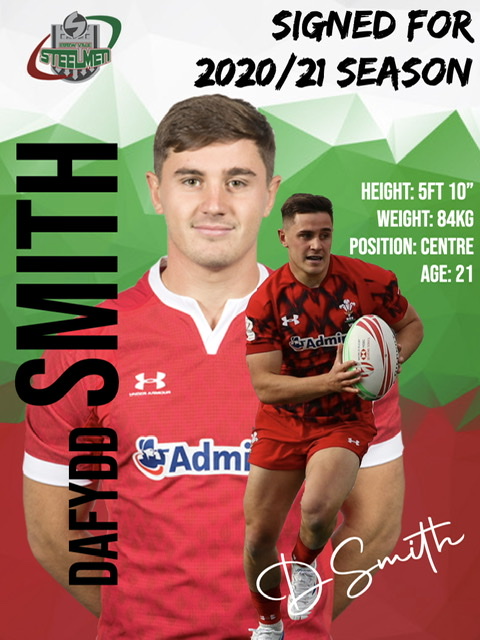 Dafydd commented, "I'm excited at returning to the 15s game and delighted to get the opportunity to play at a prestigious club in Ebbw Vale."
Link to footage
https://drive.google.com/file/d/12Qi_TJzNsFlHv2fkwlGL3upXVrYyl4cF/view?usp=sharing
Look out for news of another squad addition this Friday afternoon (28th August).
Following our victory against Aberavon we progressed to the Semi Final v Llandovery at Church Bank.
Join us again for Friday Night LIVE on the club's Facebook page & the Ebbw Vale RFC YouTube channel
Get the beers in and enjoy 🍻🍿
This Friday 7th August 7:30pm we look back at the semi final play off against Llandovery in the run in for the 2015-16 season!
Viewers are asked to make a small donation to our charity fundraising for Hospice Of The Valleys CIA the following link https://www.crowdfunder.co.uk/support-the-steelmen-hospice-of-the-valleys
🗓️ Friday 7th August
⏰ 7:30pm
📍 Safe, at home!
🎥 @Facebook Live
#EbbwEbbw #Steelmen 🇭🇺
Due to the huge uptake on the Ebbw Vale RFC reusable branded face coverings the club is ordering more (adult size).  They are priced at £6 each and if you need it posted it is a further. They take around 3/4 weeks to come back to us from when we place the order.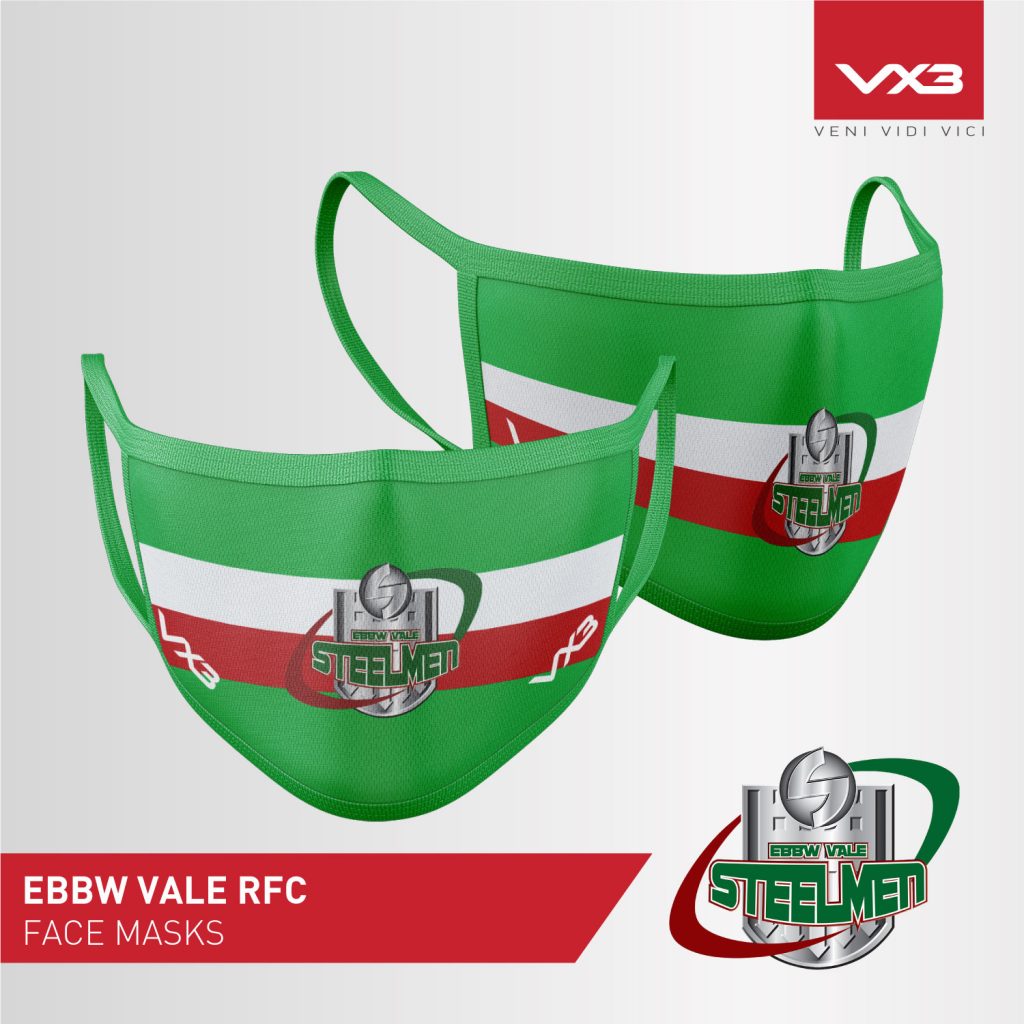 Please note: All of our face coverings are for 
personal
 use. They are not suitable for hospital / medical use and therefore do not take away from NHS supplies. They are NOT medical grade masks or personal protective equipment (PPE). For more information please click 
https://www.gov.uk/coronavirus
If you would like to order an Ebbw Vale RFC face covering please email marketing@evrfc.co.uk by Wednesday 5th of August
Come and join us every Friday, Saturday and Sunday at our outdoor bar at Ebbw Vale RFC, The Welfare.
We will be serving all your favourite tipples whilst adhering to social distancing rules.
Our individual pitches sit up to six people and can be booked out for £5 for 2 hours.
Our pitches are all individual, some come with benches and some with traditional picnic blankets …. You are also welcome to bring your own camping chairs and blankets if you wish to make your pitch your own! (All personal belongings must be taken with you afterwards so that we can ensure the safety of all our customers)
We will be serving hot food.

Pitches are set up strictly with 2 metres between each one
2 metre markers will be set out at the bar
Toilets will be monitored to ensure only one person at any one time and subject to strict sanitising procedures on a regular basis throughout the day
Hand sanitiser will be available and extra measures will be taken to ensure everyone's safety
Friday 2-8pm
Saturday & Sunday 1-9pm
Over 18's
Message The Welfare Facebook page to book your al fresco pitch now or 01495 302995!