Category Archives:
Ebbw Vale Rugby
The WRU Board has confirmed (20/03/20) the cancellation of the 2019/20 season for all WRU competitions.
This decision, informed by a comprehensive review of all league and cup competitions, was taken at a Board meeting held on Friday March 20th.
For clarity this decision applies to all WRU cup and league competitions currently underway as well as the cross-border competition between Welsh and Scottish clubs due to kick off in April.
In addition to rugby considerations, a presentation from medical staff addressed three key health and well-being factors:
·         Continuing to play brings with it transmission risks for players, coaches, referees, volunteers and supporters
·         Some competitions require medical support and doctors in attendance
·         Continuing to play brings with it the risk of adding to the unprecedented burden on the NHS and it would be socially irresponsible to do this
A review of the competitions was also considered with the key points being:
·         No team in any league is currently mathematically guaranteed promotion or relegation
·         There are 1,113 WRU Specsavers National League and Indigo Group Premiership games that would need to be played to complete league competitions
·         An absolute minimum of eight weeks would be required to complete the outstanding fixtures
A significant number of potential solutions wasexplored, but ultimately it was agreed that the only consistent and fair option is to cancel the season, meaning:
·         There will be no promotion or relegation in any of the WRU leagues and teams will remain in the league they are currently in
·         Rugby activity remains suspended until further notice and this includes no organised training or games, use of club gym facilities,  organised sessions or unsanctioned gatherings at rugby premises.
'We are well aware of the colossal amount of effort that goes into our game, on and off the field, across Wales," said WRU CEO Martyn Phillips.
"We did not take this decision lightly. It is not intended to in any way diminish the games that have already taken place or the efforts of everyone involved.
"We were particularly aware of the impact on clubs with the potential to be promoted or win competitions, but in the end we have had to make the decision to ensure we play our part in safeguarding Welsh communities.
"We know clubs will be disappointed but also hope they will be understanding, given the circumstances.
"We know that rugby clubs are facing extraordinary challenges at the moment.
"We will continue to look at all options to ensure the game in Wales emerges from this period and continues to play the vital role in Welsh life that it has for the last 140 years."
Following discussions between the 1995 skipper Andrew Oliver, and the club, it has  been agreed  to postpone the 25th Anniversary Reunion Dinner until the start of next season. A new date will be announced as soon as it's possible.
The WRU has released the following statement:
The WRU, having considered expert medical advice has taken the precautionary measure of suspending all forms of rugby, including training and rugby-related courses, from 6pm on Saturday 14 March up to and including Monday 30 March. The WRU has taken this decision in the interests of players, supporters, volunteers, referees, stakeholders and Welsh communities in general.
The WRU will continue to assess this fast-moving situation and provide further updates in due course.
From the WRU:
Further to yesterday's announcement that the Guinness Six Nations fixture versus Scotland scheduled for today has been postponed, please note that at this time, the date of the re-arranged fixture is not known.  However, see below further information in respect of tickets purchased to date by clubs, which aligns with the ticketing term and conditions.
All tickets purchased for the fixture will continue to be valid for the re-arranged date, please ask members to keep their tickets in a safe place.
Once the re-arranged date is known, clubs will be advised and at that point, clubs are able to claim a refund for those tickets that are not required for use for the re-arranged date.
In order to complete the refund, the original ticket will need to be returned to the WRU Ticket Office.
Tickets that were assigned and purchased by end users via Allocation Manager Portal (AMP) will be managed by the WRU Ticket Office and communicated with the same offer.
At this stage, we do not advise that clubs refund end users requesting immediate refunds and follow the above process.
The funeral service for the late Horace Matthews, due to be held on Tuesday 31st March at the
Congregational Church in Cwm, has been cancelled. The family will arrange a memorial service at a later date.
Horace played for us in that great team of the 50s as an excellent, hard-as-granite back row forward. He represented Monmouthshire and played in the combined Ebbw Vale and Abertillery XV that played the New Zealand All Blacks. After his playing days ended, Horace served on the club committee for many years, including a stint as Vice Chairman.
Our thoughts are with Horace's family.
Where were you on April 24th, 1995?
If you were at Narberth RFC, with several hundred other Ebbw supporters, watching Andrew Oliver lead his team to a victory that secured promotion to the top tier, then the 25th Anniversary Dinner (poster below) is the place you'll want to be. And you'll still want to be there, to celebrate one of the great days in our club's history, even if you weren't at Narberth all those years ago.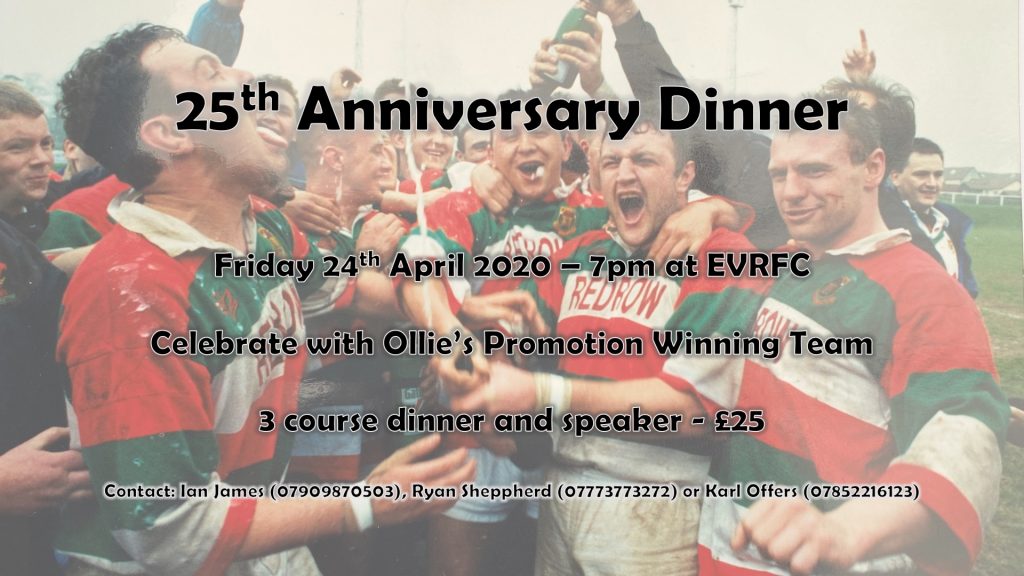 Our dynamic openside flanker, Dawid Rubasniak, has been called up by Poland Rugby and is currently in camp in Warsaw, prior to Poland's away game with the Netherlands in the Rugby Europe Trophy on Saturday. Dawid has previously represented Poland 7s and now looks set to gain full international honours. Everyone at ECP wishes him and his team mates 'pob lwc', 'good luck' and 'powodzenia'.
It was with sadness that we heard that Horace Matthews one of our great former players has died, aged 94.  One of the legendary Matthews family of Cwm who played for us in that great team of the 50s, Horace was an excellent, hard-as-granite back row forward. He represented Monmouthshire and played in the combined Ebbw Vale and Abertillery XV that played the New Zealand All Blacks. After his playing days ended, Horace served on the club committee for many years.
Our deepest sympathies go to Horace's family.
January Squad News
The club is pleased to confirm the following signings:
Wing Mike Powell, who has spent the last 5 seasons at Bridgend RFC and prior to that played Premiership rugby at Aberavon RFC has made the transfer to Ebbw Vale RFC following a move to live in the area in the summer. As supporters have already seen, Mike brings with him a solid defensive game and pace.
Joining Mike is fellow winger Aaron Grabham who has completed a move from Llanelli RFC. Aaron scored for Llanelli against the Steelmen earlier in the season and has been a regular try scorer for previous clubs Aberavon, Neath and Bridgend, and adds undoubted pace in attack and defence.
A third back joining the club, having seen service at Bridgend and briefly at Pontypridd, is Ryan Evans. Ryan's preferred position is outside centre but, as supporters have already seen, he has the skills and experience to feature at full back and outside half.
The final back to join the club is Rhys Jones whose transfer was completed in the last 24 hours from Merthyr RFC, in probably the worst kept secret in Steelmen Rugby history. Rhys's short stay at Merthyr was a successful one but he was delighted to be offered the opportunity to return to a club that means a lot to him and his family. Welcome home Rhys!
The forwards have been strengthened by the signing from Bristol club Old Redcliffians of second row forward Corey Talbot. Standing at 6ft 9" and around 20st, and a product of the highly rated Clifton College rugby programme where he came under the influence of current RGC coach Saul Nelson, Corey has added lineout prowess and power to an already strong pack.
The club has one remaining squad place and are still looking at potential players to fill it.
Injury Update
One of the major reasons that has led to the Steelmen battling at the wrong end of the Premiership table ithe high level of injuries sustained to key players. The club has yet to see the team named on a Thursday take the field on a Saturday, and this has had an unsettling affect on performances.
The current situation is as follows…
Paul King sustained a thumb injury in Saturday's game v Pontypridd.He has undergone an operation and will be unavailable for 6 to 8 weeks.
Rhys Francis, who has delivered a consistently high level of performance whether as a hooker or in the back row, suffered a dislocated shoulder in the drawn game at Llandovery and will undergo an operation in the next few weeks. This will rule him out for the rest of this season.
Dai Langdon is awaiting a scan on the knee injury sustained in the Llandovery game with fingers crossed that it is not a knee ligament injury.
Scrum half Sam Ireland is a few weeks away from a return after a concussion sustained in the Cardiff cup game followed by a groin injury.
Long time supporters' favourite Cameron Regan is having a wrist operation in the next week or so and faces 10 to 12 weeks on the sidelines.
Hooker Joe Franchi is looking for a return to the team following the hamstring tear he sustained in the defeat by Swansea.
Recent signing Lewis Williams has sustained a groin injury which is proving troublesome to recover from, but he hopes to return to action in the next few weeks.
Back row forward Owen Young is on schedule to return in mid February following the knee ligament injury sustained in the Cardiff game in November.
The coaches, players and management of Ebbw Vale RFC would like to congratulate our young Dragons Will Griffiths, Aneurin Owen and Ewan Rosser on their selection for Wales Under 20 squad for the forthcoming Six Nations Championship.