Coaching Team Announcement
Coaching Team Announcement
Chairman Jon Jones is delighted to announce that the coaching Team appointed in December 2021 will lead the Steelmen into the 2022/23 season having steadied the ship and gained 3 wins in what was a tough and disappointing 2021/22 season
Head Coach Jason Strange will once again be backed up by Forwards Coach Geraint Lewis, Backs Coach Steve Lang, S&C Coach Nicky Strange and Aaron Coundley will continue as scrum coach.
All retained players have left with training plans for the summer prior to recommencement of pre season training at the beginning of July
Jason said;
"Last season gave the coaches an opportunity to look at the squad and the clubs position both on and off the field. It became obvious that it was a big rebuilding job with changes needed. There's a lot to turnaround which isn't going to happen overnight but next season's squad will be increased, improved and stronger.
Its now important we look towards the future by recruiting the right type of characters, working hard in pre season and getting everyone going in the same direction towards a clear goal.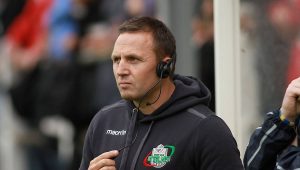 LATEST NEWS
Match Report Aberavon 24 Ebbw Vale 13
Ebbw Suffer Away Loss The Steelmen travelled to Aberavon for a midweek game in freezing weather conditions but were unable to come away with any points. The visitors started on […]
Read More