Match Preview – Neath RFC v Ebbw Vale RFC
Neath RFC v Ebbw Vale RFC
On Saturday 23rd September, the Steelmen travel to Neath RFC for the opening round of the Premiership Cup at the Gnoll with a 2.30pm kick off. The Steelmen are looking to take their good league form into the match and will be looking to make it a 3rd win in a row.
During the week, we spoke with assistant coach Steve Lang.
Steve said the mood in camp was positive. He thought winning the last two games by a bonus point was testament to the players and everyone at the club for the hard work they had put in over the summer. This was backed up by the performance against a good Cardiff team, who have been the bench markers over the last few years in the Premiership.
Steve praised forwards coach Aaron Coundley and the pack. He believed they reaped the rewards for the work that they put in over the summer, against what statistically was one of the best packs in the league.  Steve believes that Aaron and the forward pack will be looking for a repeat performance against Neath on Saturday.
Looking at the squad and its depth, Steve commented that the squad is very competitive and there are thirty or more players competing to wear the jerseys on a Saturday, with a strong bench coming on each week, as witnessed at Cardiff last Saturday. As a result, Steve thinks there may be changes made to freshen up the team, with players getting their just rewards for the way they have trained and conducted themselves during pre-season and the previous weeks. However, the squad and management will be aiming to keep the momentum going from the past few weeks.
Reviewing areas of improvement, Steve acknowledged both the squad and management are looking to improve week on week, build on each performance, be the best version of Ebbw Vale they possibly can and provide the fans that attend the Neath game with a performance to be proud of.
In terms of the cup, Steve stated that the squad are taking one game at a time. He praised Neath for the way they fought their way back into the Premiership, believes they can put in a good performance and knows they will be given the respect they deserve.
Finally, Steve believes a day out in the Principality Stadium would be good for the players and the club, with the aim to be to lift the cup at the end of the season and ultimately thinks it is about time Ebbw Vale had their name etched on the trophy.
Report be Alex Kinsella-Evans
The Ebbw Vale team to face Neath RFC:
Morgan Richards 14. Carrick McDonough 13. Ethan Phillips 12. Dom Franchi 11. Ryan Davies 10. Kieran Meek 9 Rory Harries
Morgan Davies 2. Rhys Francis 3. Adam Court 4. Jakub Malecki 5. Curtis Gregory 6. Gethin Williams 7. Lewis Young 8. Chad Thomas
Replacements
Ieuan Morris. 17. Charley Kearns. 18. Owen Hatherill 19. Dylan Bartlett 20. Owen Conquer 21. Jon Evans 22. Evan Lloyd 23. Cameron Davies
Ebbw Addicts Information
The Addicts will be providing transport to the match against Neath RFC on Saturday and will be leaving the Welfare at 12.00pm. Contact Adders or Tracy to book your seats on the bus. (See Addicts page for contact details)
After the match, the Addicts will stay at Neath Rugby Club to enjoy a few drinks before returning to the Welfare at 5.30pm
For Ebbw supporters making their own way to the match, the address for Neath RFC is: Neath RFC, The Lextan Gnoll, Gnoll Park Road, NEATH, SA11 3BU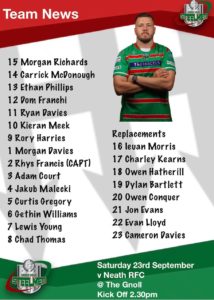 LATEST NEWS
Team News v Aberavon RFC
Jason Strange has made a number of changes to the side to face Aberavon RFC as the Steelmen look to continue their winning run after recent victories over Newport and […]
Read More