Ebbw Vale vs Llanelli Preview
Ebbw Vale vs Llanelli preview
By Alex Kinsella-Evans
We spoke to Ebbw's assistant backs coach Steve Lang before Friday night`s game.
Steve is expecting a reaction after last weekend's game against Llandovery. Everybody associated with the club were disappointed in how the game played out as Ebbw were not a true reflection of themselves as a team. He is looking for a performance against Llanelli, taking one game at a time as history has shown this season that any team can beat anyone. The squad will take Llanelli at their merit and aim to be the best version of Ebbw Vale they can be, come Friday night.
During the first half of the game at the start of the year at Parc Y Scarlets, Steve believes Llanelli caused Ebbw problems. They have a lot of young talent in the squad, which may result in some of the players stepping up to the Scarlets regional team, as well as the Wales U20s team. Steve paid tribute to them and the pathway they provide but stated Ebbw have done their due diligence on Llanelli as a team. After two losses the squad are going to concentrate on themselves and hope to give the fans something to cheer about.
Looking at the threats Llanelli pose, Steve believes they are a young squad that like to pass the ball around, have players that put in good individual performances last time the teamsmet, especially Eddie James who caused some problems and captain Iwen Shenton. However, Llanelli have threats all over the field that will have to be managed going into the game.
Considering the improvements that could be made, Steve advised the squad are looking to improve all facets of theirgame, always be the best version of Ebbw Vale and be a true reflection of what the club is about, the club history and the community.
The squad are continuing to work hard, especially on their physicality and will aim to bring their key deliverables to the game Friday night to ensure the Steelmen get a performance and result.
Finally, Steve said when considering the transition over the summer, especially the number of players that left and amount of new faces that came in, the bond amongst the squad is strong and excellent. A significant number of players havebeen used so far, some not being recognisable on first glance at Premiership level, having signed for the club from lower leagues and local clubs. However, Steve was pleased with their contribution to date and believes there is a bright future at the club.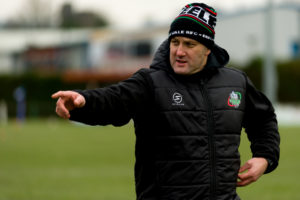 LATEST NEWS
Match Report Aberavon 24 Ebbw Vale 13
Ebbw Suffer Away Loss The Steelmen travelled to Aberavon for a midweek game in freezing weather conditions but were unable to come away with any points. The visitors started on […]
Read More