Twin Town – Joe and Dom Franchi back for 2023/24
Joe and Dom Franchi will once again play for their hometown club in 2023/24. With more than 250 appearances between them for the Steelmen, the Franchi boys have been an integral part of the Steelmen squad for a number of years.
Joe has led from the front all season and passed 150 appearances for the Steelmen during the year.  As co-captain of the team, Joe made 18 appearances during the season and scored three tries.
Joe stated, "I'm very excited to re-sign for next year. I think there is a real buzz around the playing group, coaches, backroom staff and supporters for what is happening on and off the field at the club. I can't wait to see what we can achieve together next season."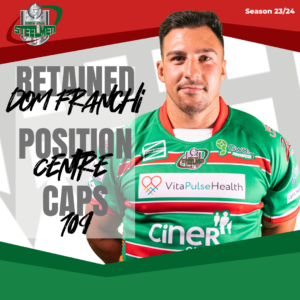 Joining Joe will be his twin brother, Dom, who passed his 100 appearances during the season, Dom's abrasive style is so popular with the Ebbw faithful and he started in 23 appearances during 22/23 and scored 1 try.
On being with the Steelmen for another season, Dom said, "Ebbw is my home and there's no place I'd rather be. It was a no-brainer. All I needed was a pen!"
Next Announcement: Monday 22nd May @6.30pm
LATEST NEWS
Match Preview v Cardiff RFC
Ebbw Vale entertain Cardiff RFC at the Ciner Glass Community Stadium in the Quarter-Final of the WRU Premiership Cup on Saturday with a 2.30pm kick off. The Steelmen beat Cardiff […]
Read More