Tribute – David 'Dai' Watkins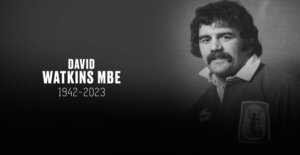 Ebbw Vale Rugby Football Club were saddened to learn of the death of David "Dai" Watkins, Dai, as he was known, was suffering with ill health for a number of years.
Dai grew up in Blaina and from a very early age it was recognised by many keen-eyed rugby fanatics from Blaina that he had an exceptional talent.
Dai only played once for Ebbw Vale as a young man, before making the move down the Ebbw Valley and joining Newport RFC. Newport RFC were the beneficiaries of Dai's wonderful skills .his silky smooth running and ability to beat a man. From Newport Dai gained 21 Welsh International caps from 1963 to 1967 Dai went on the British Lions tour of Australia and New Zealand in 1966 where he played in all six test matches and captained the Lions in two of those games.
In 1967 Dai left rugby union to join rugby league side Salford where Dai made a huge impact on rugby league. He played for Wales and Great Britain to become a dual code international star.
Dai was a tremendous rugby player and a real gentleman off the field. He had time to talk to people. He would often visit Ebbw Vale RFC clubhouse with his father in law, Wally Talbot, who was a former EVRFC chairman.
It goes without saying Dai Watkins was a local boy who set the rugby world on fire in both codes.
The whole of Ebbw Vale RFC would like to send our condolences to Dai s wife and family, to all at Newport RFC and to the Salford Red Devils Rugby League Club. Our thoughts and prayers will be with you.
Rest in peace Dai. Rugby has lost a legend.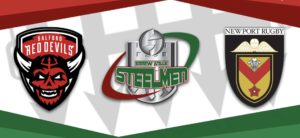 LATEST NEWS
Match Report Aberavon 24 Ebbw Vale 13
Ebbw Suffer Away Loss The Steelmen travelled to Aberavon for a midweek game in freezing weather conditions but were unable to come away with any points. The visitors started on […]
Read More