Swansea vs Ebbw Vale preview 
Swansea vs Ebbw Vale preview 
This week Alex Kinsella-Evans caught up with co-captain Joe Franchi who gave his thoughts on the up and going fixture against Swansea on Saturday.
Reflecting on areas to improve, Joe believes the areas that require attention were getting the basic processes nailed in the lineout and more clarity on the players roles in attack in different areas of the field. By doing this, hopefully this will show an efficient set piece and lots of good quality attacking phases. 
Joe was pleased with the scrum. He thought it was very dominant against Bridgend and the backs was brilliant at times.
Looking forward to the Swansea and remaining games, Joe would like to see the attack continue to evolve as the weather and pitches get better. 
The Ebbw Addicts play a massive part in shouting us on, so we are calling on them to make the trip to the seaside and shout on the Steelmen!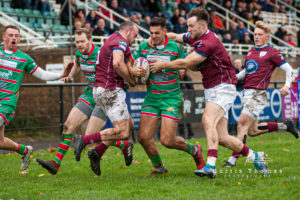 LATEST NEWS
Match Preview v Cardiff RFC
Ebbw Vale entertain Cardiff RFC at the Ciner Glass Community Stadium in the Quarter-Final of the WRU Premiership Cup on Saturday with a 2.30pm kick off. The Steelmen beat Cardiff […]
Read More