Steelmen Express Interest…
Ebbw Vale RFC are delighted to confirm that they have submitted the required expression of interest for membership of the new Elite League.
The club will hold a meeting for members on Tuesday 7th November at the Welfare starting at 7pm  to explain next steps and the clubs intentions. There will also be the opportunity for the audience to ask and have answered any questions they may have.
The meeting will be led by Club Chairman, Jon Jones and Head Coach, Jason Strange.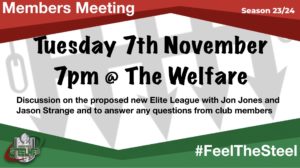 LATEST NEWS
Match Report Aberavon 24 Ebbw Vale 13
Ebbw Suffer Away Loss The Steelmen travelled to Aberavon for a midweek game in freezing weather conditions but were unable to come away with any points. The visitors started on […]
Read More