Season Preview – Jason Strange
As the Steelmen look ahead to the new season, we caught up with Jason Strange to find out about how the pre-season has gone.
Jason said, "We have come a long way in a short amount of time as a team and club. It's about progression and being patient. The club's business model and team go hand in hand, both need to be successful."
On the playing front Jason and the coaching staff are really pleased with the squad that has been assembled.
Jason added, "Really excited about the potential of this season's squad, there are lots of similarities with past teams which have been very successful here. We have a clear vision of what type of club we want to be, one part is for the team to be consistently competing for trophies and another is to have a connection to our community and supporters."
Looking ahead, Jason commented,
"Like any successful project there will be challenges along the way and takes time. I am confident and excited because we have a clear plan with everyone on and off the field going in the same direction."
The Steelmen return to action in the Indigo Premiership on Sunday 3rd September against Merthyr RFC at the Wern.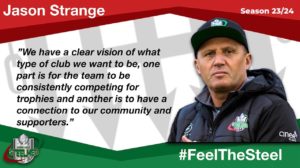 LATEST NEWS
Team News v Aberavon RFC
Jason Strange has made a number of changes to the side to face Aberavon RFC as the Steelmen look to continue their winning run after recent victories over Newport and […]
Read More