RGC vs Ebbw Vale preview 
By Alex Kineall-Evans
Follow the game on our social media channels Twitter @evrfc and facebook https://www.facebook.com/SteelmanRugby
With Ebbw on the road again this weekend against RGC, we spoke with scrum coach Aaron Coundley. Looking forward to the game Aaron said, RGC will be a very organised team and a well drilled side, who will be a challenge to the break down, regardless of whether we play them home or away.
Even though we came away from Llanelli with a bonus point, the squad felt we were no where near our best. It`s a credit to the squad to gain a try scoring bonus point victory away from home and still be dissatisfied. That shows their expectation, and we will look to be more clinical against RGC. 
The positives we will take from the Llanelli game is the job we set out to do was completed and that is credit to this squad of players and coaches.
Whilst It is nice to get a run of six league wins together, we don`t get carried away with the league table, especially as we have a big month ahead. We take each game at a time and the excitement is the same every week and that`s set by the environment and culture of our team.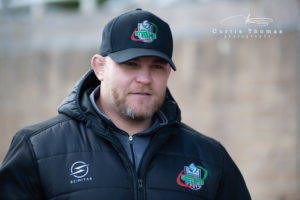 LATEST NEWS
Match Preview v Cardiff RFC
Ebbw Vale entertain Cardiff RFC at the Ciner Glass Community Stadium in the Quarter-Final of the WRU Premiership Cup on Saturday with a 2.30pm kick off. The Steelmen beat Cardiff […]
Read More