Match Preview – Ebbw Vale v RGC
Ebbw Vale vs RGC match preview
Ebbw return to league action this weekend against RGC at The Ciner Glass Community Stadium after progressing to the quarter final of the Premiership Cup last weekend.
The Steelmen will look to continue with their excellent form at the start of the season against an RGC squad coached by former Ebbw Vale coach Ceri Jones.
There are several changes to the team following the cup win at the Gnoll with Academy player Cameron Davies making his first start for the Steelmen.
During the week we caught up with team manager Dan Haymond. Dan informed the management intend on keeping the feel-good factor going by training hard with all squad players keeping the pressure on the members of the team that have been lucky enough to play during the opening games of the season.
Looking at the squad depth, Dan commented that the squad the club has assembled during the summer has left the management team with many selection headaches from the start of the season, which is a great place to be in. Some of the squad members that played against Neath last week put in a good performance and will mount more pressure on the other squad members. However, the management team have confidence that whoever plays in each position will perform.
Reviewing areas of improvement, Dan stated that the squad and management continue to try and improve all areas of their game. One area the squad will continue to focus on will be the lineout, because it can be used as a real weapon, as seen against Cardiff.
Dan believes the set piece is always important when playing RGC. The management team know RGC coach Ceri Jones very well and Ceri always puts together a good pack with a solid set piece and will always has a trick up his sleeve.
Finally, Dan stated the likes of Jordan Thomas and Ryan Gardner are returning from long term injuries and co-captain Joe Franchi is also recovering well from his injury sustained at Merthyr. Apart from that, the squad is looking really healthy.
Alex Kinsella-Evans
The Ebbw Vale Team to face RGC is:
15. Carrick McDonough 14. Harry Rees-Weldon 13. Ethan Phillips 12. Cameron Davies 11. Amir Jiwa-Walji 10. Evan Lloyd 9 Jon Evans
1.Morgan Davies 2. Rhys Francis 3. Harry Drane 4. Dylan Bartlett 5. Jakub Malecki 6. Cameron Regan 7. Lewis Young 8. Ryan Jenkins
Replacements
16. Ieuan Morris. 17. Luke Garrett. 18. Owen Hatherill 19. Curtis Gregory 20. Owen Conquer 21. Rory Harries 22. Kieran Meek 23. Dom Franchi
Ticket Information
Tickets can be bought online at the following link: https://www.evrfc.co.uk/product/30th-september-ebbw-vale-v-rgc/
We look forward to seeing you all at the Ciner Glass Stadium on Saturday.
Kickoff is at 2.30pm.
#FeelTheSteel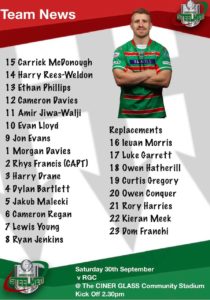 LATEST NEWS
Match Preview v Cardiff RFC
Ebbw Vale entertain Cardiff RFC at the Ciner Glass Community Stadium in the Quarter-Final of the WRU Premiership Cup on Saturday with a 2.30pm kick off. The Steelmen beat Cardiff […]
Read More