Match Preview – Ebbw Vale v Bridgend Ravens
Ebbw Vale vs Bridgend Preview
Ebbw Vale RFC return to league action against Bridgend Ravens on Saturday 28th October at the Ciner Glass Community Stadium with a 2.30pm kick off.
The Steelmen will be looking to extend their recent unbeaten run against the Ravens in what should be a tough encounter at the Ciner Glass Community Stadium.
The Steelmen welcome back Jordan Thomas to the starting XV after a long-term injury layoff and Alex Howes will be looking to make an impact from the bench on his return to the Steelmen.
Before training this week, we spoke with influential scrum-half Jon Evans.
Looking back at the Neath game, Jon said you can never take a five-point victory for granted. The performance was far from perfect but there were a lot of positives to take from it, especially considering there were ten changes made to the team from the starting line-up against Llandovery. He thought the team dominated the majority of the first half, however, he acknowledged the team need to be more clinical in the opposition twenty-two going forward as the missed opportunities may come back to haunt them against other opposition. This is the same for the Bridgend game, the team just need to be more ruthless.
Thinking back to last season, Jon said the team travelled to Bridgend at a time when they were searching for their first win. He believed the team underestimated Bridgend and did not give them the respect they deserved. Jon is confident that will not happen again this year considering Bridgend are a good team with a good coaching set up and recruited well during the summer but the strength in-depth of the Ebbw squad will hopefully see the team push on in the later stages and make it an eighty-minute game.
Jon expects Bridgend to bring a good kicking game as well as set piece, which was something they used to their advantage last season. This year however, the Ebbw pack has improved significantly under forwards coach Aaron Coundley and he imagines the front five will be looking to make amends.
Finally, Jon thinks the team set piece will be a very important part of the game and they also need to manage the first fifteen minutes of it. There have been several games this year where errors in the first quarter have resulted in the team finding themselves behind early on. As a result, the team need to manage this period and limit the number of errors against Bridgend.
Ebbw Vale Team:
Carrick Mcdonough 14. Ryan Davies 13. Ethan Phillips 12. Dom Franchi 11. Jordan Thomas 10. Evan Lloyd 9 Jon Evans
1.Luke Garrett 2. Rhys Francis (CAPT) 3. Adam Court 4. Dylan Bartlett 5. Jakub Malecki 6. Cameron Regan 7. Lewis Young 8. Owen Conquer
Replacements from…
Ieuan Morris, Morgan Davies, Harry Drane, Curtis Gregory, Alex Howes, Gethin Williams, Rory Harries, Kieran Meek and Amir Jiwa-Walji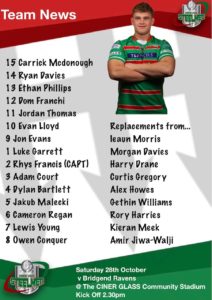 Written by Alex Kinsella-Evans
LATEST NEWS
Match Report Aberavon 24 Ebbw Vale 13
Ebbw Suffer Away Loss The Steelmen travelled to Aberavon for a midweek game in freezing weather conditions but were unable to come away with any points. The visitors started on […]
Read More