Fatra UK Ltd Re-Sign With The Steelmen 
Fatra UK Ltd Re-Sign With The Steelmen 
Fatra UK Ltd are a leading supplier of flat roof waterproofing products and solutions. Operating through a network of trained and qualified roofing contractors, Fatra provide one of the most comprehensive flat roof waterproofing packages available in the industry backed by design services, costing advice, field support and training.
Based in Cardiff, Fatra UK Ltd was established in the early 1990's and provide a comprehensive solution to both new build and refurbishment flat roofing projects.
We are delighted to once again have the continued support of Fatra UK Ltd especially in these difficult times, we would like to thank Matthew Shaw and the team at Fatra who have been a sponsor of the club for over seven years now.
You can find out more information here https://www.fatra.co.uk/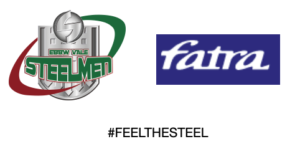 LATEST NEWS
Match Preview v Cardiff RFC
Ebbw Vale entertain Cardiff RFC at the Ciner Glass Community Stadium in the Quarter-Final of the WRU Premiership Cup on Saturday with a 2.30pm kick off. The Steelmen beat Cardiff […]
Read More