Ebbw Vale RFC will be joining the Welsh Rugby Union, along with various other sports teams and organisations in taking part in a social media blackout from 15:00 BST on Friday 30th April – 23:59 BST on Monday 3rd May in a show of solidarity against online abuse.
Everybody at EVRFC has been deeply disappointed to see some of the vile abuse people on social media seem to think is acceptable to direct at sports people just doing their job.
The words you say can have a massive impact on the wellbeing of sports people, they are human too.
Just as sport can divide us with healthy rivalry, it also unites us with the values of respect, humility and discipline. Verbal abuse against a sports person in any scenario is not only an attack on them but an attack on the values of the sports we love.
We hope that everybody would take this time to think about the way they behave online and how we, together, can stop this trend of online abuse.
We wish everybody connected with EVRFC a very good bank holiday weekend and ask you enjoy yourselves safely and responsibly.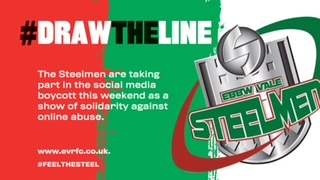 LATEST NEWS
Match Report Aberavon 24 Ebbw Vale 13
Ebbw Suffer Away Loss The Steelmen travelled to Aberavon for a midweek game in freezing weather conditions but were unable to come away with any points. The visitors started on […]
Read More