Ebbw Vale vs Bridgend preview
Ebbw Vale vs Bridgend preview
By Alex Kinsella-Evans
Before training we caught up with scrum coach Aaron Coundley. 
Aaron advised training over the past two weeks had been intense. After the Llandovery loss, there were no hiding places come Tuesday and Thursday for the players and all of the squad stepped up. 
Every week Ebbw go out aiming for a win and that will be no different this week. No matter who the opposition is, the goal is always the same. 
Finally, Aaron added Bridgend are on a good run at present and as a result expect them to be organised. Therefore, it is up to the squad to do something about it.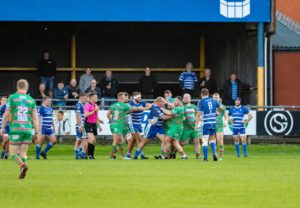 Pic Credit @Chris Pitt
LATEST NEWS
Match Report Aberavon 24 Ebbw Vale 13
Ebbw Suffer Away Loss The Steelmen travelled to Aberavon for a midweek game in freezing weather conditions but were unable to come away with any points. The visitors started on […]
Read More