Dai Llewellyn: my favourite games in an Ebbw shirt
Dai Llewellyn was a stalwart for Ebbw Vale in the 90s and represented the club in two spells as well as gaining experience playing in New Zealand. The scrum half was fortunate enough to play for Wales four times in 1998 and 1999 including scoring a try against Japan in the 1999 Rugby World Cup at the Millennium Stadium. He also featured for the Barbarians and captained Wales 7s. Dai joined media assistant Haydn Evans last week for a new series looking into some famous Ebbw games from the past through the eyes of those that were there.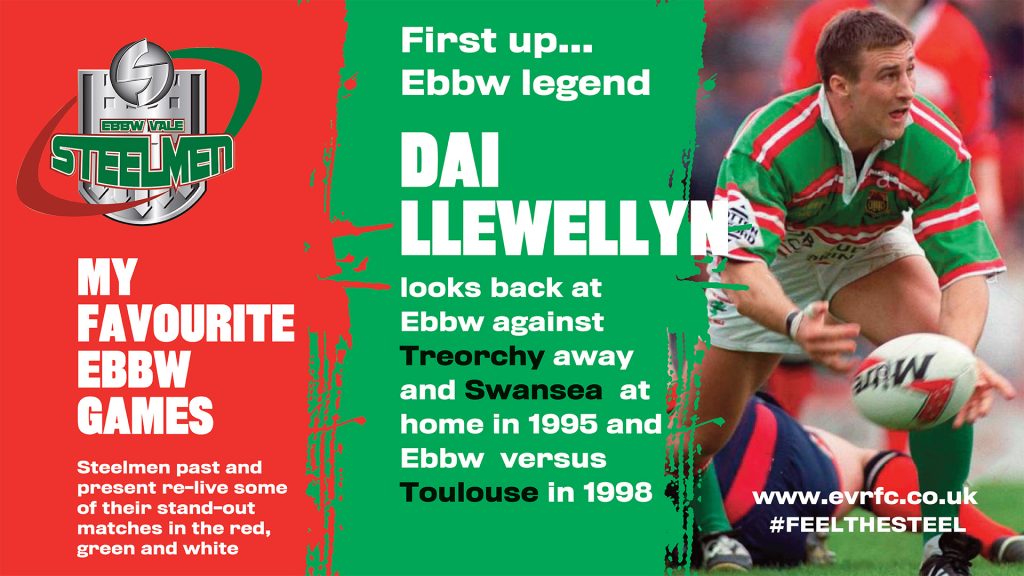 Treorchy v Ebbw Vale, 1995
Ebbw Vale were promoted to the Premier Division in 1995 after defeating Narberth in the Division One final and struggled in their first season back in the top-flight.
"We had a crisis meeting with Paul Russell, the week before after being smashed by Llanelli by 70/80 points. We sacked the coaches and basically coached ourselves that season".
"That was a turning point in the history of Ebbw Vale rugby club because we beat Treorchy that day and then went on to beat Abertillery in the local derby the week after, which was massive in us staying up".
Ebbw Vale 19-11 Toulouse, 1998
Ebbw had come in for a drubbing in the South of France in the away fixture, losing 108-16, the heaviest defeat in a Heineken Cup match ever. Dai had pulled out of the defeat in Toulouse after turning his ankle but was fit to play in the clash at Eugene Cross Park with a number of changes being made to the team.
"We picked a young side and no one expected us to win" he said.
"Jason Strange hadn't played many games at outside-half but he had a really good game with myself as the halfback's which always helps. They dropped a few high balls from box kicks early on and I thought we would have them, I think it might have been a little too cold for their fingertips".
The clash at Eugene Cross Park became an infamous game in European rugby with scuffles breaking out all over the field leading to a number of yellow and red cards, as well as an altercation between the French players and Ebbw supporters in the clubhouse afterwards.
"We didn't just beat them that day, we beat them up as well" Llewellyn laughed.
"The forwards fronted up, one player that deserves a mention was a young Lee Banks who was fantastic that game, Lee has unfortunately passed away, but he was great that day".
The brutality of the game took its toll on Llewellyn who thought he'd fractured his jaw, but this didn't stop him being involved in Wales' test with South Africa the following week.
"I think that's a day that will go down in European rugby history, the little Valleys side beating the French giants!"
Ebbw Vale 25-0 Swansea, 1995
Another game from the 1995 season and a match that was significant in Ebbw staying in the Premier Division. However, this game was particularly memorable for Llewellyn for a more personal reason.
"Unfortunately, my father had passed away during that season and I had taken some time off for the funeral and for bereavement".
In his first game back, Ebbw faced a massive test against a Swansea side containing twelve internationals including Colin Charvis and Garin Jenkins.
"It was an emotional game for me, my Dad never missed a game. Dorian Medlicott came up to me in the club afterwards and said, 'I knew you were going to win today as soon as you walked into that changing room'".
"The players, staff and supporters at Ebbw Vale helped me so much when my father passed away. Ebbw even to this day has this Valleys spirit and players want to play for each other".
If you'd like to feature in our next 'My Favourite Ebbw Games' piece, then email media@evrfc.co.uk or contact us on social media @evrfc.
LATEST NEWS
Match Preview v Cardiff RFC
Ebbw Vale entertain Cardiff RFC at the Ciner Glass Community Stadium in the Quarter-Final of the WRU Premiership Cup on Saturday with a 2.30pm kick off. The Steelmen beat Cardiff […]
Read More