The club is pleased to confirm the coaching group for the coming season, once again to be led by Head Coach Greg Woods who had no hesitation in remaining at the helm of the Steelmen. Greg very quickly settled into life at ECP and has experienced highs and lows while leading the club superbly in his first two and a half years with us.
He will once again be assisted by Lewis Roberts who has a long association with the club as a player, strength and conditioning coach and, for the last two and a half years, as backs and attack coach.
Working alongside the coaches for a third season will be team manager Darren Venn. There is a very long list of tasks for  team manager and key amongst them is a major role in player retention and recruitment.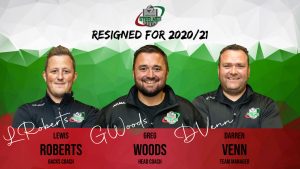 Darren said, "It's a real privilege to embark on my fourth season at the club. The management group have worked tirelessly over the last couple of months to ensure that, when we do actually start the new season, we will have an extremely committed and energetic group of players. These players have been specifically targeted and hand picked and we have confidence in them all being able to ensure the team progresses and reaches its full potential."
Chairman Jon Jones said, "This is great news for the Steelmen. TheIr desire to stay, and the manner in which both Greg and Lewis dealt with issues at the club, gives me 100% confidence that our playing future is in safe hands. Greg, as one of the longest serving coaches in the Premiership, brings a great deal of experience which he puts to full use in ensuring competitive teams take to the the field. As Chairman, I have also recognised that there had been an enormous workload for the coaches last year so, over the last six weeks, we have added to the coaching group."
The addition see former Steelmen tight head prop Gethin Robinson returning to the club as Strength and Conditioning and Skills Coach. Having cut his coaching teeth at Cwmbran RFC over the last seasons, Gethin brings with him a great deal of experience having played just under 300 games for the Dragons and Newport RFC before three seasons at the Steelmen to complete his career. Gethin won Premiership titles at both Newport and Ebbw Vale RFC and will instil his winning mentality and culture into the playing group. Gethin commented, "I'm really excited and honoured to be back involved with the Steelmen. I had a great time in my three years at the club as a player, reigniting my love for the game and lifting the premiership trophy.I'm really up for the challenge of helping Greg, Lewis and Jon get the club back to competing for the top spot in the premiership, while developing myself in a coaching role. There are quality players at the club and my ambition will be to help them achieve their aims both as individual players and as a squad."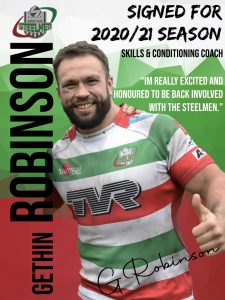 Summing up, Greg Woods said,"I feel honoured to be asked by Jon and club officials to re-sign as Head Coach for season 2020/21. I have thoroughly enjoyed my time here so far. Once again I will be supported and surrounded by good people who work tirelessly for the club. I am really pleased to see the resources we are putting in place by bringing in Gethin  the improvement of the gym and the players' room to help with preparation and analysis. This shows our determination to improve players and provide a learning and growing environment for any aspirational player. The premiership is a tough environment with no easy games and I can't wait to start working hard with the squad".
LATEST NEWS
Team News v Aberavon RFC
Jason Strange has made a number of changes to the side to face Aberavon RFC as the Steelmen look to continue their winning run after recent victories over Newport and […]
Read More